Quarter 4 Economic Indicators: Closing Down 2021
Date posted
January 27, 2022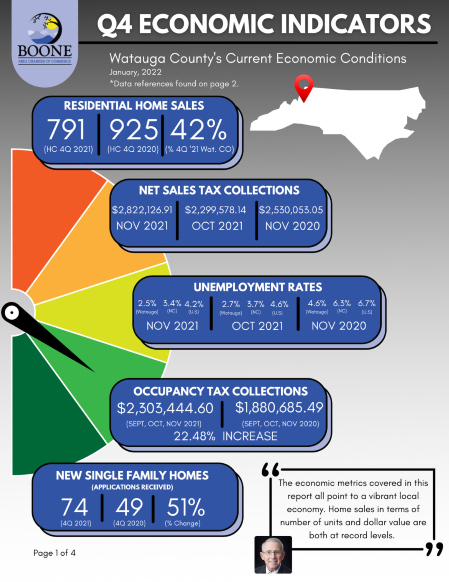 A week following the 6th Annual High Country Economic Kickoff Breakfast, the Boone Area Chamber of Commerce released the forth and final Economic Indicators Report for 2021. This quarterly report examines five key statistics within the Watauga County & High Country Economy, featuring a summary of local impacts by Dr. Harry Davis, North Carolina Bankers Association Professor and long-standing regional economist, as well as quick stats and commentary on local commercial real estate activity provided by James Milner, CCIM, Appalachian Commercial Real Estate.
View the Full Q4 Economic Indicators Report Here
Data was compiled for residential home sales, net sales tax calculations, unemployment, occupancy tax collections, commercial real estate permit applications and transactions, and applications for permits of new single-family homes. These figures include the most recent data released for each category as well as historical data to help establish trends and further context toward the area's economic stability.
"We have a full year of data now that shows us tangible proof of Watauga County's overall success in terms of economic position. The encouraging thing about these numbers is that many areas of our community are still not able to operate at "full speed," due to labor shortages, supply chain issues, and the impact of variant surges," said David Jackson, President/CEO of the Boone Area Chamber of Commerce. "I think the continued gains in Occupancy Tax and Sales Tax collections show a tourism economy that was bolstered by great weather in the fall, the resurgence of several of our larger choose-and-cut tree farms, and a cold start to ski season. It's also easy to see continued interest in our community as a long-term destination, as evidenced through continued surges in residential and commercial real estate."

"Our community has proven to be resilient over the last two years and our local community has prioritized keeping their dollars on the mountain, spending with the small businesses that are run by friends and neighbors." Jackson continued. "These numbers directly represent an area that is thriving despite of challenges, and one that sees equal support from its residents as well as visitors."
The Quarter 4 Economic Indicators report was developed and data compiled with the assistance of the Watauga County Economic Development Commission, Watauga County Tourism Development Authority, High Country Association of Realtors, and the Chamber's Business Development Committee.
Economic Indicators reporting will continue through 2022, with Quarter 1 data expected once all relevant data has been reported by state and local agencies.
To contact Dr. Harry Davis for follow up comments, please contact the Walker College of Business at Appalachian State University at 828-262-4030. If you have questions, please contact the Boone Area Chamber of Commerce at 828-264-2225 or email david@boonechamber.com.