Ribbon Cuttings & Grand Openings
Let the Chamber staff help you open your business in style

*COVID19 Safe Ribbon Cutting & Grand Opening Guidelines
As of July 28th, we have temporarily updated the guidelines for Ribbon Cutting and Grand Opening events. The updated guidelines communicate expectations to ensure compliance with health and safety recommendations, like social distancing and mask wearing. This document will evolve as our community moves through North Carolina's Stages to Reopening.
View the COVID19 Safe Ribbon Cutting and Grand Opening Guidelines Here.
Ribbon Cutting & Grand Opening Ceremonies
The Boone Area Chamber of Commerce staff and Board of Directors are known as the "Welcoming Arm" of the Boone Area Chamber of Commerce. They consist of a group of over 30 volunteers selected from the business community.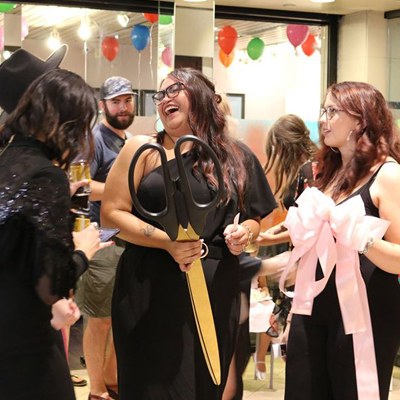 These volunteers conduct complimentary groundbreakings or ribbon cutting ceremonies for any Chamber business grand opening, expansion, moving to a new location or joining the Chamber. The service includes a group of Chamber Ambassadors coming to your place of business or event, providing the official ribbon, the use of the official large scissors and taking photographs at the event for media publication: Watauga Democrat and other local outlets, the Boone Area Chamber of Commerce website, and various social media channels.
There is no charge for a Chamber ribbon cutting; it is a value-added benefit of being a member of the Boone Area Chamber of Commerce.
Our Ambassadors generally anticipate spending approximately 15-30 minutes at your event, so we suggest having take-away pieces about your company. The ribbon-cutting you schedule is YOUR event and there are no set rules on what to do.
Please note any changes or cancellations need to be submitted at least 24 hours in advance. Thank you.
Ribbon Cutting & Grand Opening Guidelines
Schedule your event at least two weeks in advance. Ribbon cuttings can be scheduled Monday-Friday from 7:30 a.m. – 5:30 p.m.

Determine who will cut the ribbon. The owners, top managers, or executives most frequently do the honors, but each business is different and can pick whomever they like.

Determine who will be in the photo. Some businesses will take multiple photos at the event to include staff, guests, Chamber Ambassadors, etc.

Plan out your remarks or a speech. This is usually done when everyone is gathered before the ribbon cutting. This is a great time to give a short "commercial" and share what it is you do and what sets you apart. The Chamber Ambassadors love hearing about new businesses and they share that information with fellow Chamber members.

Invite everyone you know! Invite clients, prospects, friends, family, business neighbors, associates, government officials, etc.

Food and beverage are not required, but for open house events, it can make a nice touch.
To schedule your event, or if you have any additional questions, please contact Wysteria White at 828-264-2225.