Conference Room Rental
Host your next meeting or work gathering at the Boone Area Chamber of Commerce

Need a place to meet with a client or host your next team meeting?
The Boone Area Chamber of Commerce is excited to offer usage of our conference room to our valued members.
Our conference room hours of operation are Monday – Friday, 8:30AM – 4:30PM. We require 48-hours' notice to use the facility and have a 24-hour cancellation policy.
For any questions, please contact Lindsay Cook by email or call 828-264-2225.
Conference Room Details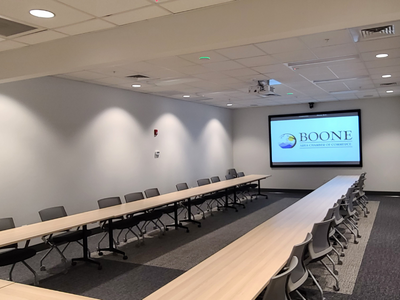 Our conference space is a 790-square foot versitle meeting space. It seats up to 48 people in a classroom-style setup or 30 for a boardroom-style setup. Tables and chairs can be configured in a variety of ways, so let our team help plan your best and most efficient use of the space.
To reserve the conference room, please book at least 48 hours in advance (no catering) or at least a month in advance (with catering assistance) by contacting: Lindsay Cook. Reservations are subject to availability and are filled on a first-come-first-served basis.
Amenities Include
A 130-inch display screen and projection system in ceiling microphones and speakers.
Apple TV (login required) and Wave casting are available to all users. A dedicated Zoom Room (address given once reservation is complete) is available for additional fee. An HDMI wall connection is available and recommended for use with any video presentations.
Wi-fi access
Restrooms and space for catering setup are located just outside of the conference room
Coffee and water service (for half-day and day rentals only)
Rate Structure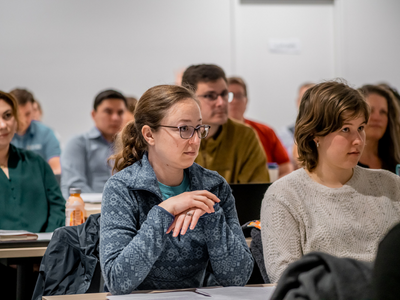 Boone Area Chamber of Commerce members may rent our space by the day, half-day, or hour. Day and half-day rates include coffee, water, light snacks, and the use of the conference room A/V equipment.
$250.00 for ½ day (4 hours)
$450.00 for full day (6-8 hours)

$75.00 per hour for less than 4 hours of usage*
*Hourly rate does not include coffee, water, or snacks.
$50.00 - Use of Chamber Zoom Room function, which includes technical assistance from Chamber staff
Community Foundation partners receive unlimited free usage of the conference room, subject to schedule availability. Program Partners receive a special discount on the listed room rates. For more information, please contact Lindsay Cook by email or call 828-264-2225.
Catering
Should your event or meeting require catering, you can make arrangements on your own with no additional fee. Want us to take care of ordering and delivery? For an additional fee of $75.00, the Boone Area Chamber of Commerce can assist you with these important logistics. If you need Chamber staff to assist with catering, please make your conference room reservation at least 1 month in advance.
Click Here for a List of Boone Area Chamber of Commerce Catering Partners
Click Here for Conference Useage Guidelines
Click Here to Request A Reservation