Boone Area Sports Commission
Enhancing the High Country as a Sports Tourism Destination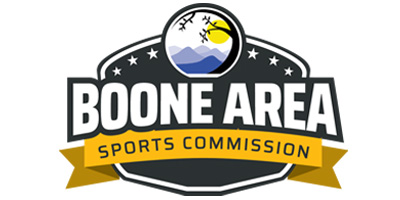 The Boone Area Sports Commission (BASC) was created in 2019 to enhance the High Country of Northwest North Carolina as a sports tourism destination. The BASC is a 501c3 non-profit organization under the umbrella of the Boone Area Chamber of Commerce.
About the Boone Area Sports Commission
The BASC is a proud member of the Sports Events and Tourism Association, the premier trade association for the industry in the United States. The Boone and Watauga County Tourism Development Authorities provide a portion of the operational funding to the BASC along with industry contacts that have helped create awareness with event organizers across the State of North Carolina and the Southeast Region.
The BASC works with a variety of partners and all levels of sport. Our staff connects organizers with event-hosting resources, including hotel and restaurant partners, area attractions, and other services provided by members of the Boone Area Chamber of Commerce.
Reggie Hunt serves as Boone Area Sports Commission Director, having been named to the position in March 2022. He works with event representatives and local organizers to recruit new opportunities to the area while also assisting with established events to enhance their operations and impact on the area economy.
The BASC was formed after nearly 18-months of study by local stakeholders, seeking ways to further boost the local tourism economy. Don Shumacher, founder of DSA Sports, LLC, and past President of the National Association of Sports Commissions conducted a comprehensive feasibility study that included an inventory of local sports facilities and amenities, and provided recommendations for growth opportunities in the sports tourism arena.
Current Events & Partners
If you are interested in bringing an event to the High Country, or perhaps enhancing an existing event, please contact Reggie Hunt at reggie@boonechamber.com.
Current event Partners include:
Boone Area Sports Facilities
The High Country of Northwest North Carolina is home to state-of-the-art facilities that offer easy access and breathtaking views.
While the BASC does not directly manage any venue, our staff can connect you with the proper contacts to aid in the discussion of facility usage and event logistics.
Boone Area sports event facilities include:
2022-23 Boone Area Sports Commission Board of Directors
David Jackson, President/CEO, Boone Area Chamber of Commerce, 2022-2023 Chair

Laura Barry, Watauga High School Women's Basketball Coach

Tara Brossa, General Manager, Hampton Inn & Suites - Boone

Amy Davis, Town of Boone Manager

Dr. Scott Elliott, Superintendent, Watauga County Schools

Joe Furman, Watauga County Economic Development Commission

Eric Smallwood, Watauga County Parks & Recreation Director

Sarah Strickland, Director of Athletics, Appalachian State University

Wright Tilley, Executive Director, Boone/Watauga County Tourism Development Authority
Staff:
Reggie Hunt, Executive Director