Boone Area Chamber of Commerce Releases Q1 Economic Indicators
Date posted
April 22, 2021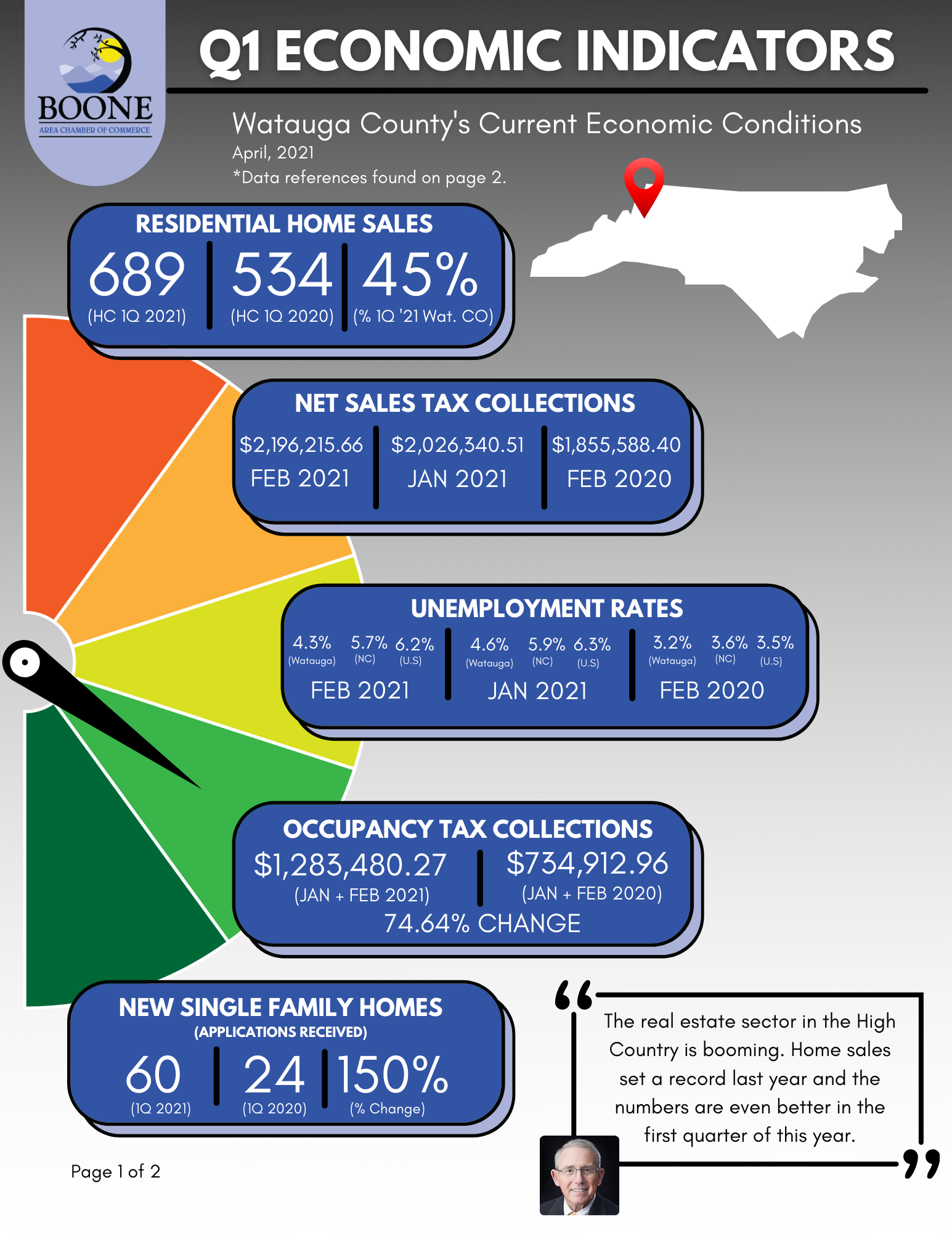 Today the Boone Area Chamber of Commerce released its first Economic Indicators Report, a quarterly examination of five key statistics within the Watauga County & High Country Economy. The report features a quarterly summary of local impacts by Dr. Harry Davis, North Carolina Bankers Association Professor and long-standing regional economist.
View the Q1 Economic Indicators Report Here
Data was compiled for residential home sales, net sales tax calculations, unemployment, occupancy tax collections, and applications for permits of new single-family homes. These figures include the most recent data released for each category as well as historical data to help establish trends and further context toward the area's economic stability.
"We are often asked how the economy is doing in Boone. Depending on what sector you examine, the answers may be very different, so we worked to create a way that easily summarizes key data points that can more accurately tell our economic story," said David Jackson, President/CEO of the Boone Area Chamber of Commerce. "We are fortunate to have Dr. Davis as a resource in our community that can give an even broader expert perspective. Dr. Davis provides such thorough analysis as he presents his High Country Economic Forecast. This report will give him a chance to chart that forecast throughout the year and offer more details about where we have been and where we are headed."
The report was developed and data compiled with the assistance of the Watauga County Economic Development Commission, Watauga County Tourism Development Authority, High Country Association of Realtors, and the Chamber's Business Development Committee.
Future reports will be released quarterly once all relevant data has been reported by state and local agencies.
To contact Dr. Harry Davis for follow up comments, please contact the Walker College of Business at Appalachian State University at 828-262-4030. If you have questions, please contact the Boone Area Chamber of Commerce at 828-264-2225 or email david@boonechamber.com.