Welcoming College GameDay to Boone!
Date posted
September 13, 2022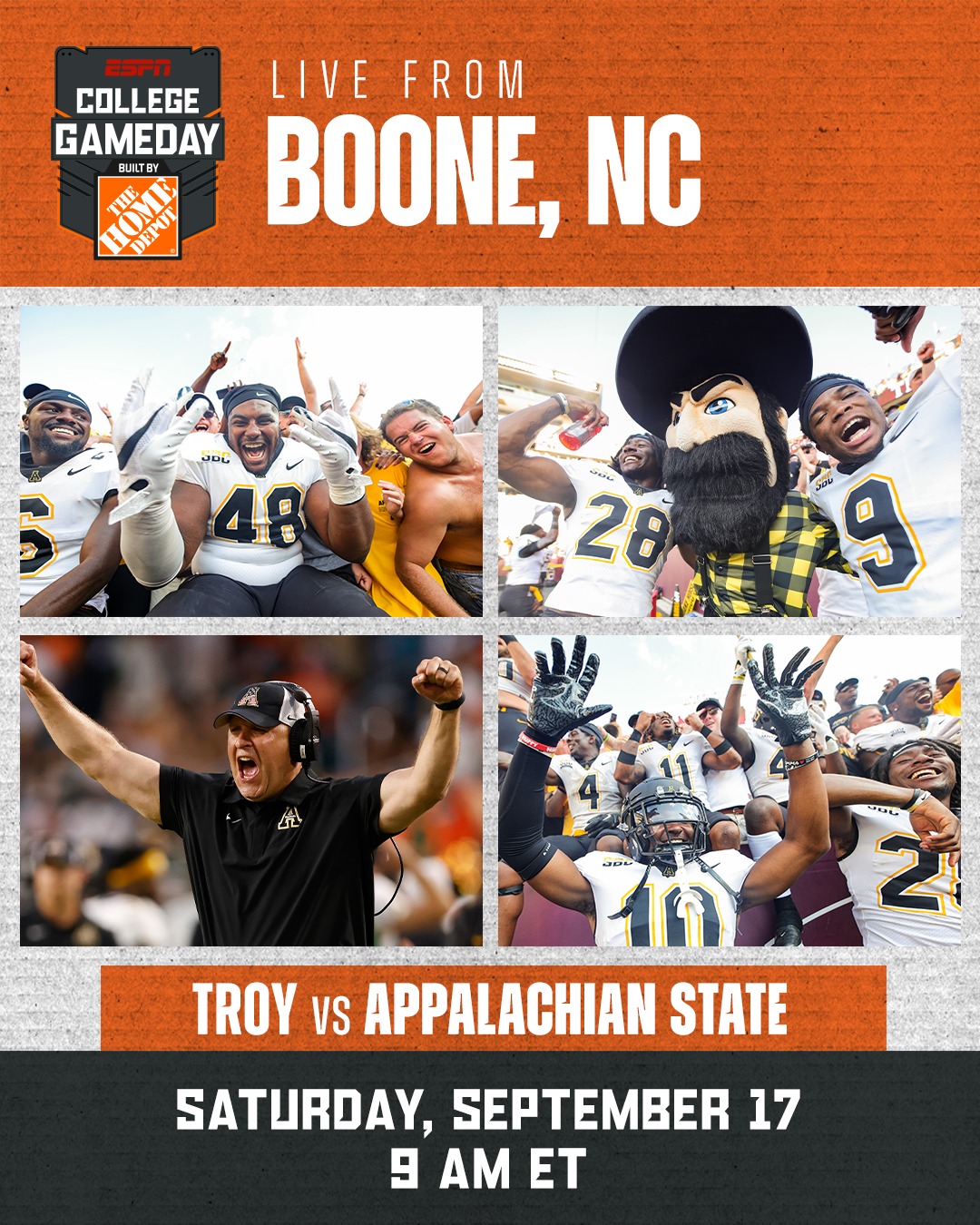 Last updated: Friday, Sept. 16 at 6:00 pm
Hours after App State's win over #6 Texas A&M, ESPN's pre-game show College GameDay announced it will be coming to Boone on Sept. 17 before the App State home football game vs Troy.
As we approach this busy weekend, the Boone Area Chamber of Commerce has worked with partners at App State Athletics to provide you with some key operational details and expectations for the days leading up to game day.
ESPN's College GameDay crew members will begin arriving to Boone on Tuesday to prepare for the week.

The GameDay convoy will make its way off I-85, up US321, and into Boone through Blowing Rock on Wednesday afternoon.

We encourage businesses to show your support for App State and Mountaineer football by sporting your Black & Gold, displaying welcome messages on signage, or any other creative and fun ways to show your pride here in the High Country!





Share photos with us of your business/organization's App State pride and

we'll post it

on our various social media channels this week. Please send photos to ethan@boonechamber.com.





The College GameDay stage and experience will be hosted on Sanford Mall in the heart of App State's campus. Set-up will begin on Wednesday and continue into Thursday.

ESPN recording and broadcasting of live shows begin by 8 am on Friday, including

College Football Live

at 3 p.m.

Fans are able to be in the College GameDay pit immediately adjacent to the stage. Access to the pit

will open at 5:30 am and is on a first-come, first-serve basis. School colors and high energy required!

Only 500 fans will be allowed in the pit.

College GameDay will air live on Saturday from 9am-12pm ET on ESPN and ESPNU and also availible for streaming on the ESPN App.

If you are planning to attend the GameDay festivities and game, here is some key information for you to KNOW BEFORE YOU GO:

Entry to the GameDay pit opens at 5:00 am.

College GameDay goes live at 9:00 am and runs through 12:00 pm.

Kickoff between App State vs. Troy is at 3:30 pm.

Parking for Saturday's game follows normal game day guidelines and operations. You can prepare for game day parking with

these tips

from Explore Boone.

Expect increased rates at private parking lots, with many opening as early as 5:30 am.

We encourage all who plan to arrive before 8 am to

not park

on the metered lots in Downtown Boone. Meters will run on a normal schedule and will be monitored regularly.
While football games at The Rock are attended by some of the most loyal fans in college football, many visitors will be coming up to Boone and Kidd Brewer Stadium for the first time. Please be patient with new visitors and arm your staff with the information in this email so they can help answer as many questions as possible.
The Boone Area Chamber of Commerce will continue to field calls from event personnel and visitors throughout the week. Recommendations and referrals will be made to member businesses, and should immediate contact with your business be requested, we will be in touch directly.
We will update this page throughout the week as new details and information comes in.
GO APP!