Recap of 73rd Annual Meeting and Announcement of the 2022 Community Awards
Date posted
August 23, 2022

Nine awards honor local leaders

and businesses

during gathering at the Appalachian Theatre of the High Country
The Boone Area Chamber of Commerce held its 73rd Annual Membership Meeting on Thursday, August 11, 2022, at the Appalachian Theatre. The event was presented by First Horizon Bank with additional sponsorship support from Peak Insurance Group, Appalachian Regional Healthcare System, Greene Construction, Creekside Electronics, and Spangler Restoration.
This year's annual gathering recognized significant business achievements throughout Boone's 150-year history, while also connecting the roots of the town's formative years to many businesses that still exist today.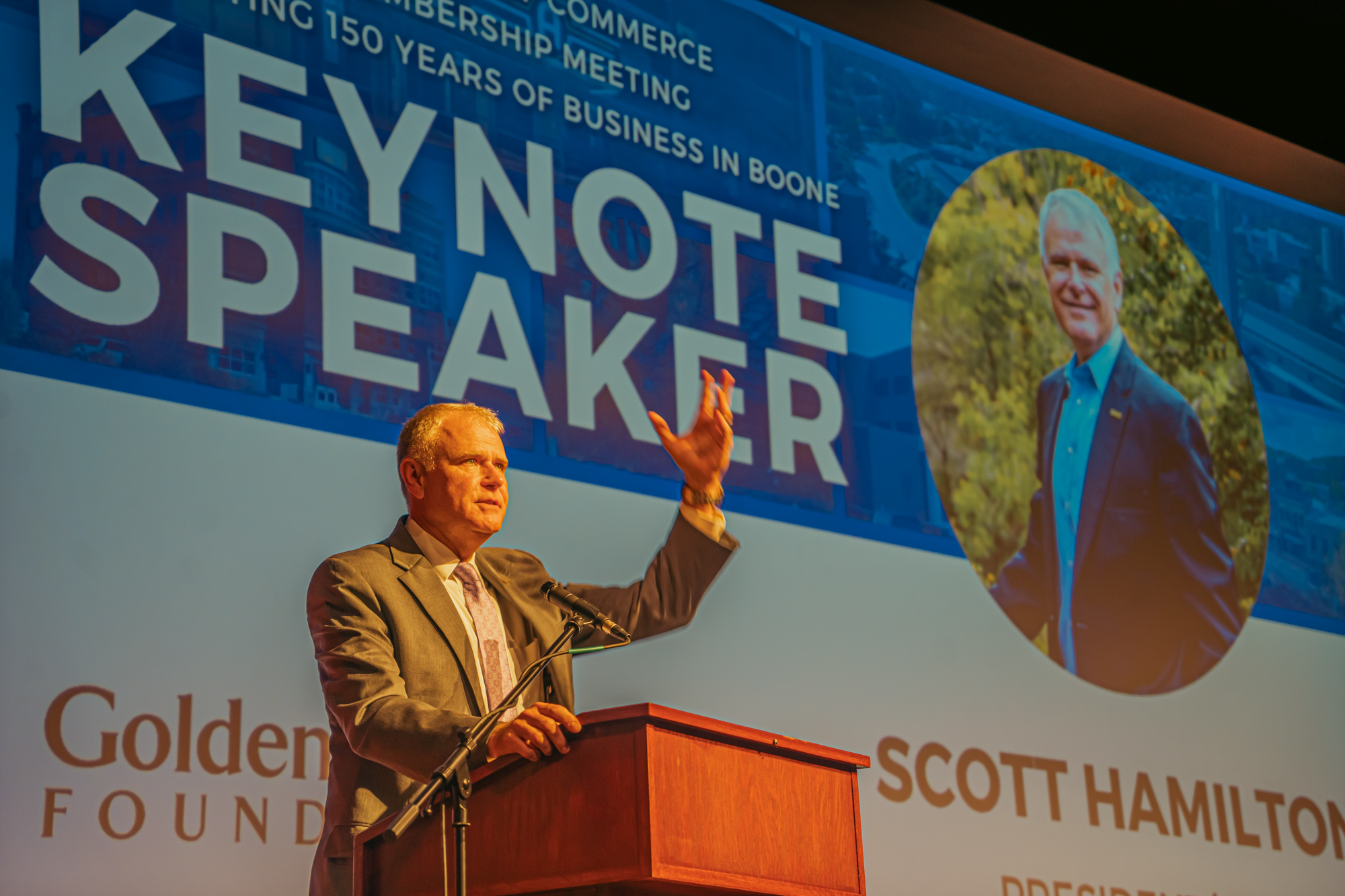 President & CEO of the Golden Leaf Foundation Scott Hamilton delivered the keynote address for the event, sharing a passionate message about the legacy of the Horn in the West outdoor drama, which celebrated its 70th season in 2022.
He discussed how community interest and involvement in unique programs can make an impact on funding partners and opportunities. Hamilton encouraged community leaders to consider strategies that bring projects like Horn in the West to the attention of State legislators, with the hopes of gathering further awareness and financial investments to ensure future success.
Talia Freeman, Director of Marketing at Beech Mountain Resort, was introduced as the Chair of the Chamber's Board of Directors for the 2022-23 year. Her remarks highlighted the various ways the Chamber can be supportive of local businesses along with her goals for the Board of Directors for the year ahead.
David Jackson, President/CEO, delivered the annual State of the Chamber remarks, highlighting key projects and economic drivers that have shaped the organization's work within the community. He shared on the impact of the Watauga Housing Forums and the need for increased involvement from businesses, local government, and community members as the Watauga Housing Council presses into action. Jackson's remarks also touched on renewed community partnerships that focus on workforce development, future talent recruitment/retention strategies, and the importance of post-secondary degree attainment in tomorrow's labor market.
The Chamber honored its 2022 Community Award winners as part of the ceremony. Nine local leaders and businesses were recognized for their accomplishments over the past year, each blending professional achievements with a spirit of resiliency that has served as a driving force throughout the business community this year.
2022 Community Award Winners
Wade Brown Award for Community Involvement: Dr. Jesse Lutabingwa, Appalachian State University
Dr. Jesse Lutabingwa coordinates Appalachian State University's annual involvement in the Mandela Washington Fellowship and recruits local business leaders and families to participate in various cultural exchanges with participants during their stay in the High Country.
The Mandela Washington Fellowship, the flagship program of the Young African Leaders Initiative(YALI), empowers young African leaders through academic coursework, leadership training, mentoring, networking, professional opportunities, and local community engagement. YALI was created in 2010 and supports young Africans as they spur economic growth and prosperity, strengthen democratic governance, and enhance peace and security across the African continent. Since 2014, the U.S. Department of State has supported nearly 5,100 young leaders from across 49 countries in Sub-Saharan Africa to develop their leadership skills and foster connections and collaboration with U.S. professionals through the Fellowship. The cohort of Fellows hosted by App State is part of a group of 700 Mandela Washington Fellows hosted by 26 educational institutions across the United States.
The Wade Brown Award for Community Involvement is the Chamber's oldest award, dating back to 1979.  Named after the first recipient of the honor, this award recognizes a significant contribution through community engagement. The award is sponsored annually by Boone Golf Club.
Ben Suttle Special Services Award:  Billy Ralph Winkler
A Watauga County native and consummate volunteer, Billy Ralph Winkler has put countless time and abundant energy behind numerous organizations and efforts throughout his life in the mountains.
Many know Winkler for his impact on music education in the High Country. After graduating from Appalachian State University in 1973 with a degree in Music Education, he served as Band Director at Watauga High School for 28 years, and still volunteers time to the group by conducting various concerts and programs throughout the year. Winkler also holds leadership roles with the Watauga Community Band and with the musical production of Horn in the West.
In addition to his volunteer efforts, Winkler remains professionally active as Music Director at First Baptist Church in Boone. He has also served multiple terms on the Board of Trustees at Caldwell Community College & Technical Institute.
The Ben Suttle Special Services Award is named for the former Boone Town Councilman and recognizes the spirit of volunteerism in the community.
everGREEN Award for Sustainability: Tsuga
Tsuga was founded in 2008 by outdoor enthusiast and industry expert Jimi Combs. The company began manufacturing high-end canopies and has diversified its product line over the last decade to include utility bags, totes, and custom gear for various companies throughout Western North Carolina. Tsuga maintains an extensive research and development operation in Boone, utilizing students and recent graduates of Appalachian State University to develop new products for various industry partners. The company has also developed its own branded line of products, focusing on supporting industry and adventure activities found right here in the High Country.
Over the course of its 14-year history, Tsuga has developed one of the most unique and supportive workplace cultures in the High Country, and that philosophy has helped the company retain top talent. Combs encourages his staff to get out and enjoy the outdoors, bring product ideas back to the lab if they find a special need, and product test their prototypes as they chase adventures throughout the area. He allows staff flexibility in scheduling and encourages them to develop their own products and designs on designated maker's days. These workplace practices have landed Combs on a regional circuit to discuss best practices in workplace recruitment and retention strategies.
The everGREEN Award for Sustainability is presented to a business, organization, project, or person who has furthered the inclusion and integration of sustainable development principles. This annual award is sponsored by Mast General Store.
Dan Meyer Partnership Award: Boonerang Music & Arts Festival
Whether they are residents or graduating students, when someone leaves the High Country they already have an eye on their return. The term Boonerang refers to those that leave the area for a period of time, only to race back and make life in the community they once called home.
The inaugural Boonerang Music Festival was held on June 17-18, 2022, as a free music and arts festival in downtown Boone. The festival included multiple concert stages and food, beer, and crafts vendors - all with connections to the Boone area. Over 7,000 Boone enthusiasts were estimated to have attended the event.
The Town of Boone Cultural Resources Department led a massive effort of volunteers, sponsors, and local supporters that helped to stage the event. The year-long planning effort resulted in producing a festival atmosphere while also bringing visitors to local shops and restaurants throughout the weekend. The Jones House hosted a kickoff Friday night concert and streets were closed throughout downtown Boone on Saturday to make room for stages, craft vendors, and local food and drink.
The Dan Meyer Community Partnership Award recognizes a community leader for their efforts to bring multiple parties together for a common cause. Meyer served as President/CEO of the Chamber for 12 years before retiring in August of 2016. The award is sponsored annually by LifeStore Bank.
Alfred Adams Award for Economic Development: Greene Construction
As they celebrate 75 years of service to residents and businesses in the High Country, Greene Construction can be traced to some of the community's most recognizable building projects.
Greene Construction was founded by Boone native G. Perry Greene, Sr., who purchased the company shortly after his return from World War II from his boss at the time, Mr. W.C. Greene. A civil engineer by trade, G. Perry Greene went on to lead a company involved in the design and plans for many of the area's major buildings as well as the construction of many residential houses.
From the early 1970s to the mid-1980s, Mr. Greene's sons were involved in the entire process of design, bidding, supervision, construction, and completion of many structures in Boone and the High Country. Upon Mr. Greene's full retirement in late 1986, his sons assumed responsibility for the company operations. By the mid-1990s, Mr. Greene's three children became the owners of Greene Construction Incorporated.
Over the last several years, Greene Construction has been involved in various building and infrastructure projects, including the Downtown Boone streetscape project, the construction of King Street Flats, and various projects at Appalachian State University.
The Alfred Adams Award for Economic Development recognizes individuals and/or organizations who have worked for the orderly growth and development of Boone and Watauga County. Adams served as a local banker and provided an influence on many Chamber committees in the organization's formative years. This award is sponsored annually by Wells Fargo.
Baker/Jones Woman of the Year Award: Amy Crabbe, Appalachian Regional Healthcare System
A calming and reassuring voice during a time of turbulence, Amy Crabbe served as a beacon of hope and affirmation for the staff of Appalachian Regional Healthcare System during the height of the COVID-19 crisis.
In her role as Chief Operating Officer, Crabbe helped ensure the staff across the entire ARHS footprint felt supported as the physical and mental toll was deeply impacting healthcare workers around the country. Among the many tasks she championed during the pandemic, she helped facilitate childcare availability for system employees so those with young children could continue to staff critical roles throughout the system. As the standards for care changed quickly, Crabbe led a team that prioritized safety protocols for patients and staff, and mobilized resources throughout the community to deal with the COVID surge prior to the wide distribution of vaccines.
Crabbe recently concluded a 17-year tenure with Appalachian Regional Healthcare System, spending her last three years as Chief Operating Officer. She came to ARHS in 2005 as Vice President of People Services, serving as the leader of human resources for the second-largest employer in Watauga County.
The Baker-Jones Woman of the Year award is named for long-time Chamber volunteers Gillian Baker and Susan Jones. This award honors an inspiring member who exemplifies the qualities of leadership, mentorship, and community involvement. This award is co-sponsored annually by Appalachian Regional Healthcare System and Blue Ridge Energy.
Sue W. Wilmoth Award for the Advancement of Tourism: Dr. Dana Clark, Appalachian State University
After a prosperous career in the hospitality industry, Dr. Dana Clark joined Appalachian State University's Hospitality and Tourism Management program in 1991. He is the only individual to win all three top tourism honors in North Carolina: the Barentine Special Achievement Award, the Tourism Excellence Award for Public Service, and the Tourism Excellence Award for an Individual.
He previously worked as a vice president of convention development at the Charlotte Convention & Visitors Bureau and for Holiday Inn for approximately 10 years.
Dr. Clark has taught or mentored many of our area's tourism professionals. He is uniquely qualified to teach students the theory behind the curriculum but also gives examples based on his years of experience in the field.
The Sue W. Wilmoth Award for the Advancement of Tourism is named for the former Chamber Director, who used her influence in tourism promotion to capitalize on the region's natural resources while balancing progress with preservation. The award is sponsored annually by the Boone and Watauga County Tourism Development Authorities.
Kathy Crutchfield Citizen of the Year Award: Kellie Reed Ashecraft, Watauga Housing Council
A former Appalachian State University professor seeking to stay involved in work related to the social determinants of health found herself as the lead organizer of one of the most important community projects of the last decade.
Kellie Reed Ashecraft served as the lead organizer of the Watauga Housing Forums, a four-session series held in Spring 2022 that brought together a diverse group of community members and key agency partners. The forums focused on the safety, accessibility, and affordability of housing while discussing solutions that could guide community efforts moving forward.
At the conclusion of the forums, the Watauga Housing Council was established, with Ashecraft again serving as lead organizer. The group works through various committees to advance ideas and suggestions that came through the forums, along with nurturing partnerships that can further the work on the challenges and opportunities related to housing in Watauga County.
The Boone Area Chamber of Commerce presents the Kathy Crutchfield Citizen of the Year Award annually to an individual who exemplifies a selfless work ethic while impacting and supporting a broad array of community partners. The award is presented annually by Beech Mountain Resort.
Elizabeth Young Award for Community Leadership: Jennifer Warren, Western Youth Network
Jennifer Warren has served as Executive Director of Western Youth Network for 13 years. WYN works to eliminate Adverse Childhood Experiences (ACEs) and their consequences in the High Country of North Carolina by targeting the root causes of trauma and paving the way for collaborative community action to heal children who have experienced trauma.
With her undergraduate degree from Pfeiffer University, Warren holds a Master's Degree in Clinical Mental Health Counseling from Appalachian State University and a Certificate in Non-Profit Management from Duke University. Under her leadership, WYN has become one of the most dynamic non-profit agencies in the High Country, expanding its staff by 59%, while growing its annual budget by 52%. With those increases, WYN has been able to grow the number of children served by 31%.
In 2017, Warren was honored by the Boone Area Chamber of Commerce as its inaugural 4 Under 40 Award winner in the category of non-profit professional. The Boone Area Chamber of Commerce Board of Directors established the #KeepBooneHealthy Award for Community Leadership in 2020. The award was renamed in 2022 in honor of Elizabeth Young, longtime Executive Director of the Hunger & Health Coalition, and one of the community's most admired and decorated non-profit professionals.
The Elizabeth Young Award for Community Leadership is presented to a person or organization whose leadership has been pivotal to maintaining the health and vibrancy of our community. The award recognizes leadership that rises above the work of any one business or agency in order to unite and mobilize business, government, non-profit, and civic partners toward an improved quality of life for our entire community. This award is sponsored annually by Berkshire Hathaway Home Services Vincent Properties.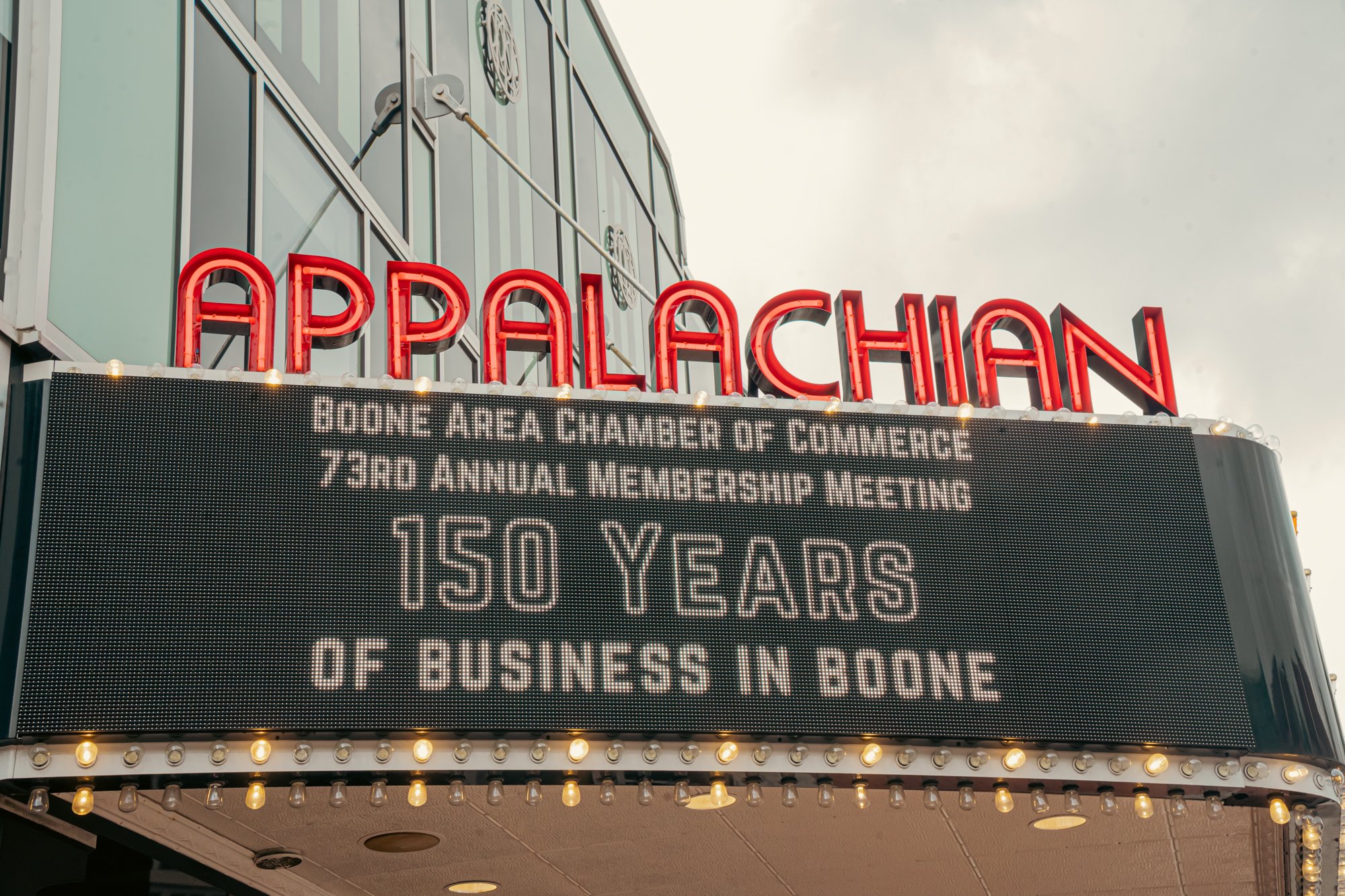 Click here to view a full video recording of the 73rd Annual Membership Meeting.