Economic Leaders Convene For Vision Northwest North Carolina

A total of 16 speakers and panelists fueled economic leadership discussion for an audience of 180 education, economic development, and business community leaders at the inaugural Vision Northwest North Carolina summit, held Wednesday in Boone at the Beaver College of Health Sciences at Leon Levine Hall.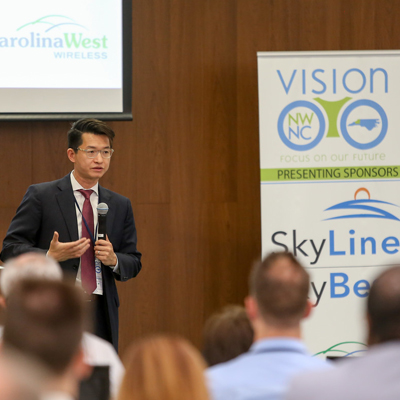 Headlined by keynote speakers Christopher Chung, CEO of the Economic Development Partnership of North Carolina (pictured right), and George Sherrill, Chief of Staff for the North Carolina Department of Commerce, the event helped engage conversation regarding business recruitment, employee retention strategies, workforce and talent development trends, and developing regional collaboration on economic development projects.
"We were encouraged by the regional relationship building that occurred at this event, " said David Jackson, President/CEO of the Boone Area Chamber of Commerce. "We were inspired to host this forum after hearing discussion on many of these topics at the State level. Our organizing committee sought to create an event that could bring economic development talking points to Northwest North Carolina, and intimately discuss how these how these issues effect our region directly. Not only were the messages and success stories insightful when delivered in this geographic context, but the opportunity for economic development professionals to spend time with one another addressing challenges and opportunities will drive our region's growth moving forward."
The event was co-sponsored by Skyline/Skybest and Carolina West Wireless and organized by the Appalachian State Career Development Center, Boone Area Chamber of Commerce, Economic Development Partnership of North Carolina, and the Watauga County Economic Development Commission.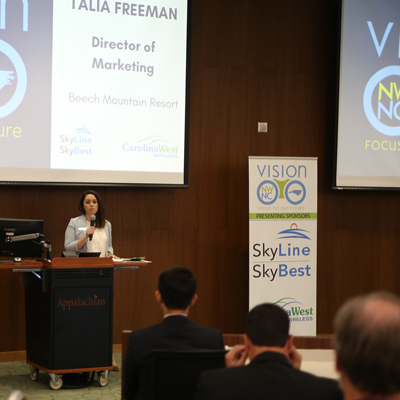 Dr. Pat Mitchell, former Assistant Secretary for Rural Development for the NC Department of Commerce, and incoming President of the North Carolina Economic Development Association delivered a message on the value of Economic Leadership. Talia Freeman, Director of Marketing for Beech Mountain Resort (pictured left), shared lessons learned as the resort transitioned leadership of a 50-year-old family business to a younger generation.
"Today was about sharing ideas and successes, and doing so with a regional focus," said Jackson. "An idea or project that works well in one of our counties could very easily translate to success for a neighboring jurisdiction. Hearing the details about how success was attained, whether it is a community development project or a bold employee retention strategy, can help local leaders solve some long-time challenges. Plus, the relationships made during a day of talking and idea sharing can spark future regional collaboration on economic development projects.
The event featured attendees from the 12-counties in the EDPNC's Northwest Prosperity Zone, which include: Alleghany, Alexander, Ashe, Avery, Burke, Caldwell, Catawba, McDowell, Mitchell, Watauga, Wilkes, and Yancey counties.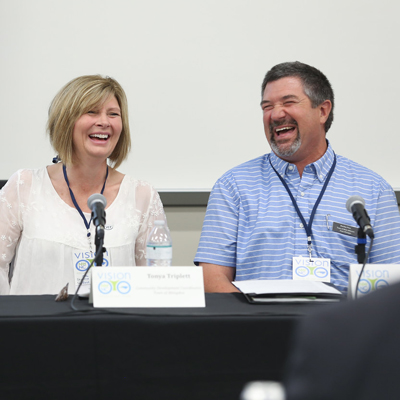 Breakout panel discussions included topics on community development projects, workforce and employee retention, and talent development for the workforce of tomorrow.
A link to the list panelists that participated in the conversation can be found here.
For more information on Vision Northwest North Carolina, please contact David Jackson at the Boone Area Chamber of Commerce at (828) 264-2225 or by email at david@boonechamber.com