Now Accepting Applications for 2023 Business After Hours!
Date posted
October 10, 2022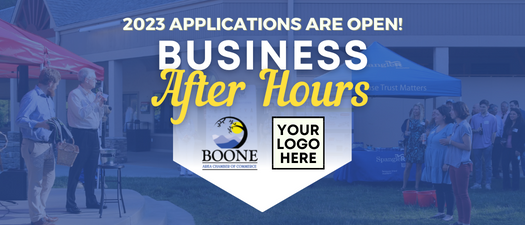 Business After Hours provides a unique opportunity to network and showcase your business to fellow Chamber members. These events are scheduled for the 2nd Thursday of each month from January through December each year.
All BACC members current with their membership dues can apply for Business After Hours events. Venue requirements and host responsibilities are listed on the application.
The BACC allows partnering with another business to sponsor an event, however, this must be cleared through the BACC prior to finalizing the event contract. Sponsor businesses must also be members.
The application deadline is 10/28/22. Please submit your application and any questions to Carrie Henderson at carrie@boonechamber.com.
Please keep in mind that submission of an application does not guarantee your business will receive a Business After Hours date. Selected hosts will be notified in December.