Week 2 Results: Workforce Rundown

The Boone Area Chamber of Commerce continues to monitor workforce conditions in Watauga County and the surrounding High Country. The data collected during the second week of our High Country Workforce Rundown saw little change in the impact of the economic conditions driving our employment challenges. A full snapshot of the data, as well as trend changes from our first week of responses, can be seen below.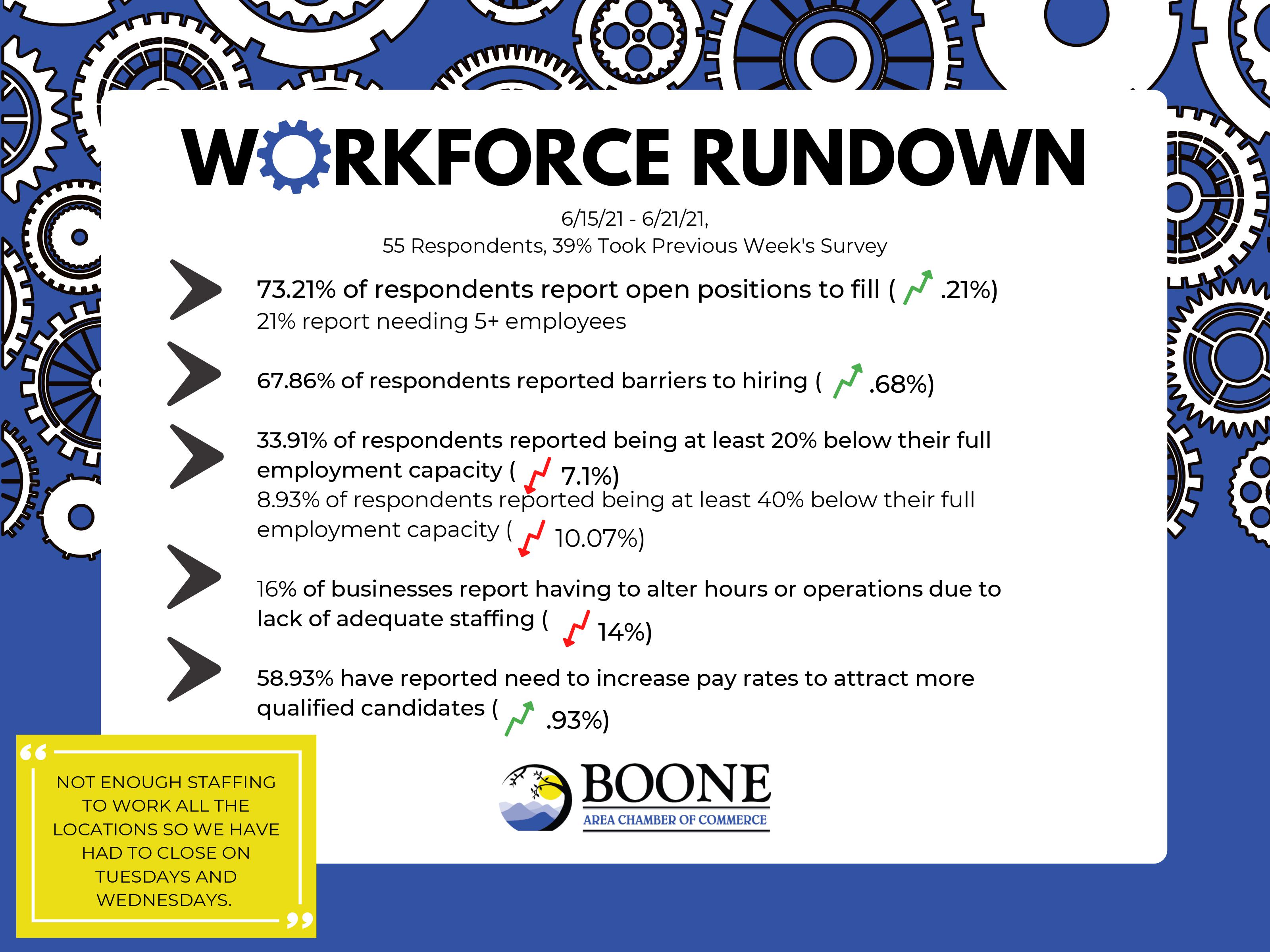 Over the last several days, the NC Senate has released its budget proposal. It is important to note this budget, even if passed by NC Senate vote (which is expected), it does not become law until approved by the NC House and signed by Governor Roy Cooper. The legislature has not passed a full budget since the Summer of 2018.
The Senate's budget includes the proposed $1 billion "Job Opportunity and Business Saving Grant Program," which would use federal American Rescue Act money to automatically send a check to every business that received one of several COVID-19 relief grants, including PPP loans or other state and federal grants.

The grants would be equal to 7.5% of the amount of aid the business previously received, with a cap of $18,750. It's an alternative to the House's plan for tax deductions on PPP loans (in it's version of the budget, the House may replace the Senate provision with it's own plan, with the final decision on how to address this issue worked out by the two chambers as part of their negotiation for a final version of the budget to presented to the Governor). Thanks to Chuck Eyler of Peak Insurance, a member of the Chamber's Government Relations Committee for his research on this critical detail of the Senate budget.
We continue to send data and feedback to Senator Deanna Ballard and Representative Ray Pickett for use in their conversations regarding the budget process.
We have also launched our survey for the 3rd week of the Workforce Rundown, that will remain open until Monday, June 28th at 4:30pm. We appreciate each of you that continue to fill out this short, yet important survey, helping us to inform law and policy makers of the real-time workforce conditions in Watauga County.
Take the Week 3 Workforce Rundown Survey
Please feel free to reach out with any questions regarding this complex and important issue. If you have job openings, remember you can send details to info@boonechamber.com and we'll post them free of charge in our Job Center.
Thanks for all you continue to do to keep the High Country economy moving!
David Jackson
President/CEO