High Country Workforce Rundown

If you are like us you have heard many stories over the last several months about the challenges High Country businesses are facing when it comes to hiring staff.
The realities of this stage of the COVID-19 economy see numerous area businesses faced with the decision to open their doors, knowing they are not staffed adequately to deliver their products or services to expected levels, or just close doors completely until staffing shortfalls can be addressed. These circumstances have led some businesses to experience unpredictable shifts in hours of operation and even temporarily closed doors, all while knowing they are not able to fully maximize the economic benefits of a High Country summer, and the offseason sustainability that comes along with such a pattern.
Last week, the Boone Area Chamber of Commerce initiated a survey of area businesses to gain hard data around the anecdotal stories shared with us over the last several weeks. We received 54 responses in just a few short days after the survey was launched from businesses varying in location and industry.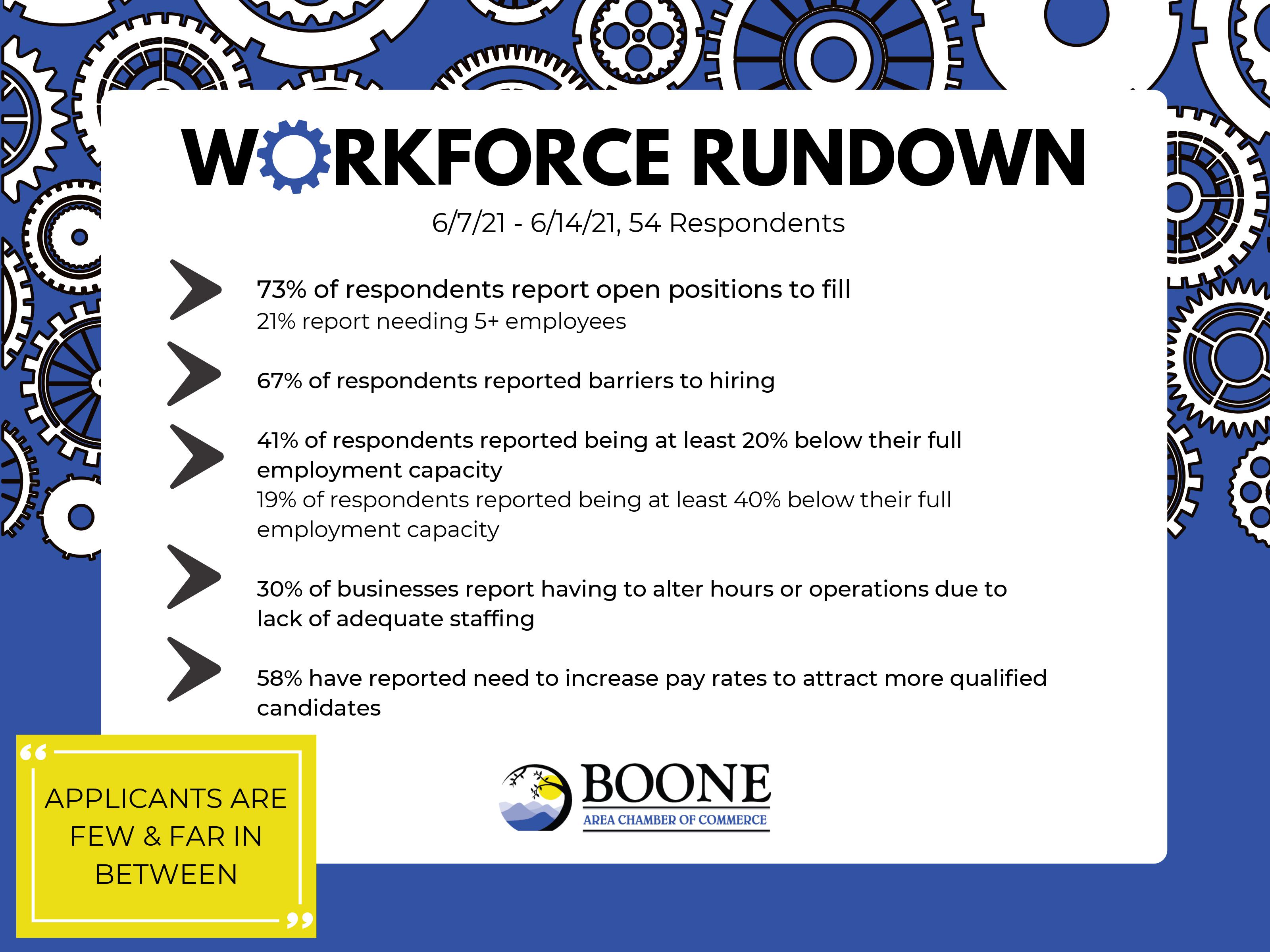 This data
has been analyzed and shared with
Senator Deanna Ballard
and
Representative Ray Pickett
to give them both a real-time look at the business conditions in a county they represent. While the data did not tell them anything they didn't already suspect, our hope is that these points will further energize our two elected leaders to fight for the necessary governmental actions that could help stabilize High Country businesses.
As I've said before, our employment challenges do not come from a single source. Most of the national narrative has been about North Carolina's acceptance of additional unemployment insurance subsidies from the Federal government, and a thought that people are "too lazy to go to work".
While it's unfortunately true that some people are choosing to game a system that was set up to support our workforce at a critical time, others are not able to access jobs for a variety of reasons.
Lack of affordable child care or summer camp options have been further compounded by those entities running at reduced capacities due to COVID-19, and some families have even see a spouse opt out of the workforce because they see the cost of childcare versus the wage they were earning as revenue-neutral.

We've seen a rise in entrepreneurial pursuits, which puts people in the workforce, but not necessarily in their old jobs.

Some have been thrust into the role of primary care givers for family members.

We've seen some businesses not able to fully staff yet due to the unknown outcome of the tax burden left in the wake of North Carolina's insistence on requiring taxes be paid on deductible expenses accrued by businesses related to Payroll Protection Program expenditures.
While businesses are operating at less than full strength, we still see weekly rises in our visitor counts. We have large events on the horizon, like the Luke Combs concert (Labor Day Weekend), App State Football weekends (back to 100% capacity), fall festivals, peak leaf weekends, ski season, and winterfest, just to name a few. What happens when visitors come to our area and are not satisfied with their experiences because our businesses are not staffed to serve them? What will happen in the event we have a less than ideal summer, followed by a wet fall, and a warm winter? What happens to the businesses that were fortunate to survive to that point?
The State of North Carolina has the resources to solidify its economic position and stabilize small businesses. We encourage Governor Cooper, Senator Ballard, and Representative Pickett to work hard to push forward in these conversations, not for any political gain, but because our community needs this support.
We will continue to survey our members over the next several weeks and report data back to our local legislators so they can have real data and stories to back up their advocacy for our community. A strong and functional business community means High Country families can access the services they require, and also have a better chance to put food on their own tables.
Please let us know if you have any questions regarding these complex and important issues.
Boone Area Chamber of Commerce