SkyLine/Skybest & Carolina West Wireless Presenting Sponsors for Vision Northwest North Carolina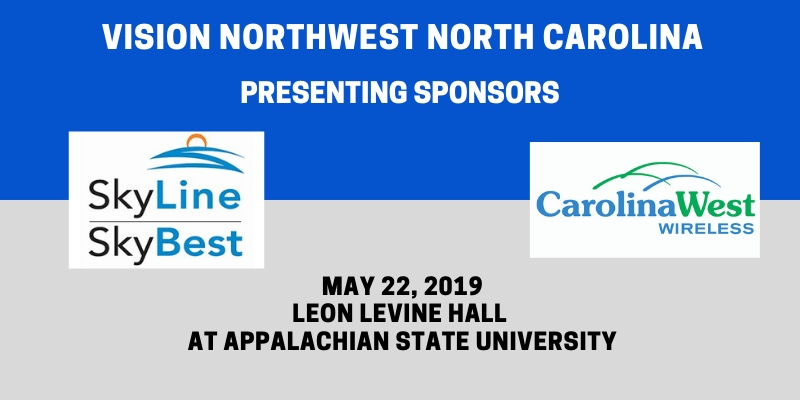 With registration underway for Vision Northwest North Carolina, the Boone Area Chamber of Commerce is pleased to announce SkyLine/Skybest and Carolina West Wireless will serve as presenting sponsors for the event.
Vision Northwest North Carolina is a one-day summit that will highlight local trends in economic, workforce, and talent development in the State of North Carolina's Northwest Prosperity Zone. The event takes place Wednesday, May 22nd, at Leon Levine Hall at Appalachian State University, home of the Beaver College of Health Sciences.
A collaborative that includes the Boone Area Chamber of Commerce, Watauga County Economic Development Commission, the Career Development Center at Appalachian State University, and the Economic Development Partnership of North Carolina, serve as the host organizers of the summit.
The Northwest Prosperity Zone, as defined by EDPNC, includes Alexander, Alleghany, Ashe, Avery, Burke, Caldwell, Catawba, McDowell, Mitchell, Watauga, Wilkes, Yancy counties.
"SkyLine/SkyBest and Carolina West Wireless are excited to partner with the Boone Area Chamber in sponsoring the Vision Northwest North Carolina Summit," said SkyLine Executive Director of Competitive Operations Edward Hinson. "Now more than ever, it is essential that we bring our respective experiences and voices to the table in hopes of creating new avenues of economic opportunity for the northwest region. As regional-based telecommunications providers, we recognize the value of having robust fiber and high-performance wireless networks to serve the current and potential technology service needs of entrepreneurs and employers, as well as elementary and secondary school students, and users of telehealth services now and in the future. We look forward to taking part in joining our community partners for this vital purpose."
Vision Northwest North Carolina will feature a keynote address on rural economic development trends from Chris Chung, President of the Economic Development Partnership of North Carolina. Additional keynote speakers and event sponsors will be announced later this spring. Each participant will attend breakout sessions on topics that include:
Beyond Borders: Leaders from towns in and around the Northwest Prosperity Zone discuss best practices and trends involving economic development.

May the Force Stay with You: Discussion related to workforce development trends, employee retention, and benefit strategies in the Northwest Prosperity Zone.

Build Your Future: Focus on talent development and trends in training/education of the workforce of tomorrow.
Keynote sessions will include discussion of subjects that focus on embracing the next generation of leadership, succession planning, and other State led initiatives and projects. The target audience for this event includes economic development professionals, local government officials/staff, and business owners from within the Northwest Prosperity Zone. Attendance will be limited to the first 200 registrants.
Additional sponsors include PeakGroup.insure (breakfast and post event reception), Appalachian Commercial Real Estate (lunch), Watauga County EDC (lunch), Appalachian Regional Healthcare System (break) and LifeStore Bank (break).
"We are thankful for the support SkyLine/Skybest, Carolina West Wireless, and all of our sponsorship partners, for helping make Vision Northwest North Carolina possible, "said David Jackson, President/CEO of the Boone Area Chamber of Commerce. "This event is aimed at creating a substantive dialogue between community partners in our prosperity zone and to show that we can be stronger as a region by sharing ideas, resources, and perspectives. SkyLine/Skybest and Carolina West Wireless serve as excellent examples of these core ideals, so to have them as presenting sponsors of a community collaboration like this makes for a perfect partnership."
A full event agenda, registration information and a list of confirmed speakers and panelists are available at https://www.boonechamber.com. Registration cost is $95 per person and includes meeting materials, lunch, and snacks throughout the event. Special rates for those seeking hotel accommodations are available at Meadowbrook Inn and Holiday Inn Express – Boone. Rate and contact information is available on the event registration page at www.boonechamber.com.
If you have questions, please contact the Boone Area Chamber of Commerce at 828-264-2225 or email david@boonechamber.com.