Quarter 3 Economic Indicators
Date posted
November 2, 2021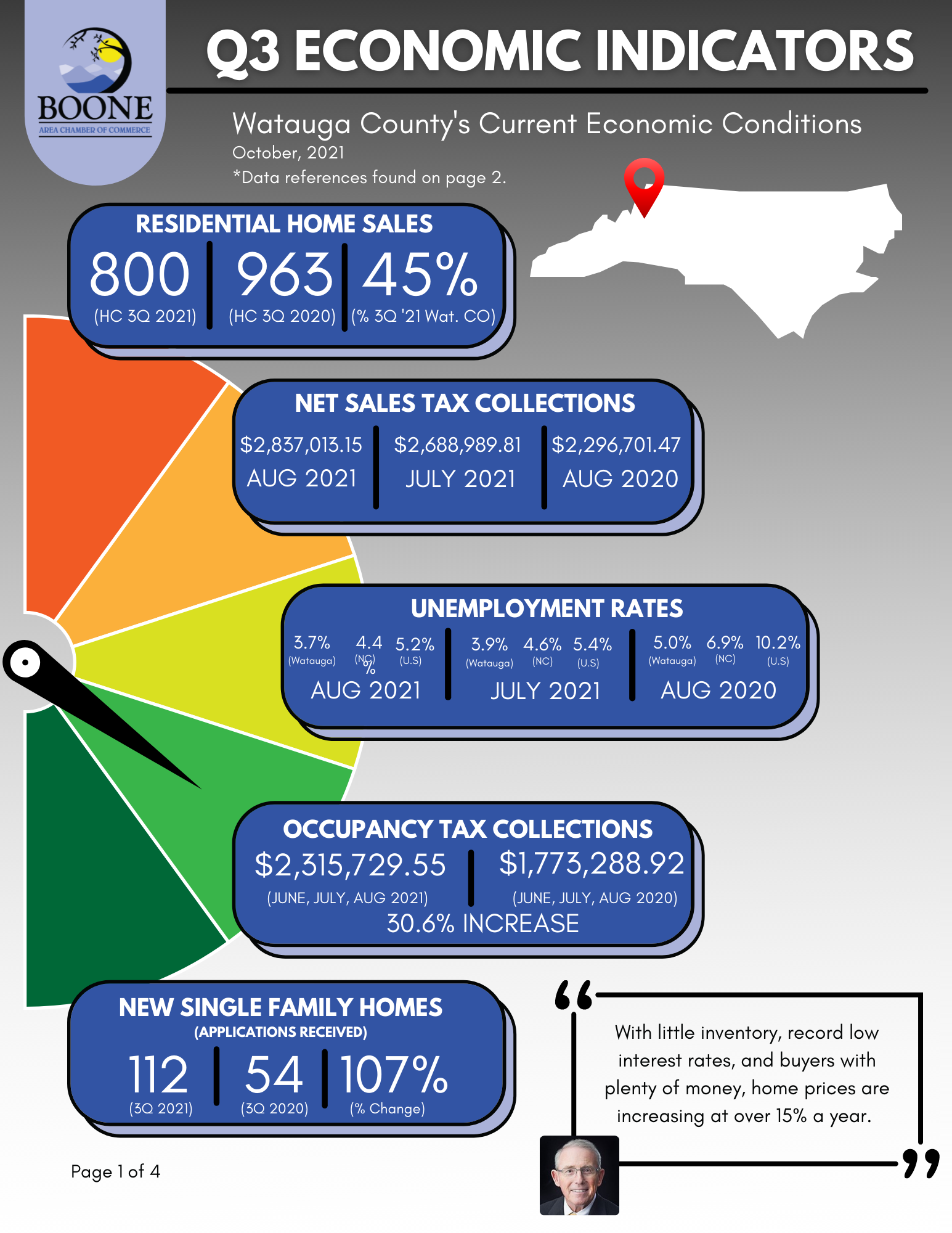 Today the Boone Area Chamber of Commerce released its third Economic Indicators Report, a quarterly examination of five key statistics within the Watauga County & High Country Economy. The report features a quarterly summary of local impacts by Dr. Harry Davis, North Carolina Bankers Association Professor and long-standing regional economist. New to this report, a summary of commercial real estate activity and trends has been provided by James Milner, CCIM, Appalachian Commercial Real Estate.
View full Q3 Economic Indicators Report Here
Data was compiled for residential home sales, net sales tax calculations, unemployment, occupancy tax collections, commercial real estate permit applications and transactions, and applications for permits of new single-family homes. These figures include the most recent data released for each category as well as historical data to help establish trends and further context toward the area's economic stability.
"We continue to see economic conditions impacted by the realities of the COVID-19 pandemic," said David Jackson, President/CEO of the Boone Area Chamber of Commerce. "As Dr. Davis points out, some areas of the economy have outperformed expectations and have even been boosted by increased visitor traffic across our region. At the same time, some of the businesses that are on the frontlines of receiving that traffic are not able to staff at their usual levels, which leaves them performing in a somewhat unpredictable manner. Our business community has benefited from good weather and relatively low COVID impacts throughout the key fall months, which should have a positive impact on business resiliency as we move into the winter."
The report was developed and data compiled with the assistance of the Watauga County Economic Development Commission, Watauga County Tourism Development Authority, High Country Association of Realtors, and the Chamber's Business Development Committee.
The next report in this series is due in January 2022, once all relevant data has been reported by state and local agencies.
To contact Dr. Harry Davis for follow up comments, please contact the Walker College of Business at Appalachian State University at 828-262-4030. If you have questions, please contact the Boone Area Chamber of Commerce at 828-264-2225 or email david@boonechamber.com.