Local Chambers host 4th Annual High Country Economic Kickoff Breakfast
Date posted
January 17, 2020

A capacity crowd of over 200 local business leaders gathered at Meadowbrook Inn Thursday, January 16th, for the 4th Annual High Country Economic Kickoff Breakfast, co-hosted by the Boone Area and Blowing Rock Chambers of Commerce. The event was presented by Peak Insurance Group with additional sponsorship support from 4 Forty Four and Allen CPA PLLC.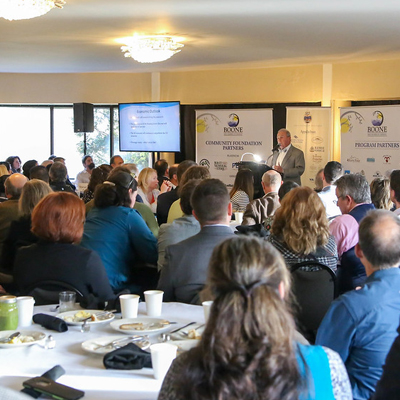 Dr. Harry Davis, North Carolina Bankers Association Professor of Banking and Economist, presented a summary of trends related to regional and nationwide economic growth, housing, employment, and education. He then predicted the current economic recovery period will continue through 2020 and into 2021.
"There is not a recession in sight. That is incredible considering where we are in terms of this economic recovery," Davis stated. "GDP growth last year was above 2%, this year will be right at 2% or maybe 1.9%. That's solid growth and really very good for the economy. Unemployment rates for the nation and the state will remain historically low and may even tick down a bit lower. Wage gains will remain in the 3.2%-3.3% range, and again 11-years into an expansion, that is a great number. Because of low unemployment and gains in wages, home sales will look similar to last year."
Dr. Davis also predicted North Carolina's personal income growth will continue to outperform the national average. Watauga County will experience similar trends in unemployment and wage growth as compared to 2019. Tourism spending in the county is expected to see continued growth due to many visitors experiencing a surplus in discretionary income due to the long economic expansion period.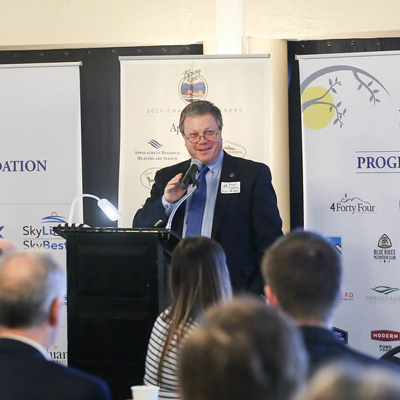 Brad Moretz, President of Appalachian Ski Mountain, addressed the audience about the evolution of the winter economy in the High Country and ways the region can look at strengthening its economic position throughout the entire year.
"Without a year-round tourism economy, we have Blowing Rock in the 1950s, with seasonal motels, seasonal restaurants, a bus station, and only one hotel and one restaurant open during the winter," Moretz said. "In 1961, without our winter economy and our second-home tax base, Watauga County's tax rate was 95 cents per hundred dollars, more than double what it is now. In fact, out of 100 North Carolina Counties, there are only two counties today that have a higher tax rate than Watauga County did before the winter economy took off, with six ski areas and a fast growing second-home market. Today, Watauga County has the fourth-lowest property tax rate in North Carolina, largely due to our second-home market."
Moretz continued by offering ideas on economic development projects that would strengthen the area throughout the year, including the construction of a conference center and indoor attractions such as a water park or trampoline park, enhanced internet based-lodging opportunities, and investment in green space by local municipalities.
"Homegrown or imported tourism and recreation entrepreneurs will define this area in the next century, just like they did in the last century," Moretz said.
The Boone Area Chamber of Commerce awarded it's 2019 Business of the Year awards. Foggy Pine Books was selected as Startup Business of the Year. Los Arcoiris was selected as Small Business of the Year and Animal Emergency Clinic of the High Country was tabbed as Large Business of the Year.