The Boone Area Chamber of Commerce to Host Insight Seres
Date posted
August 17, 2021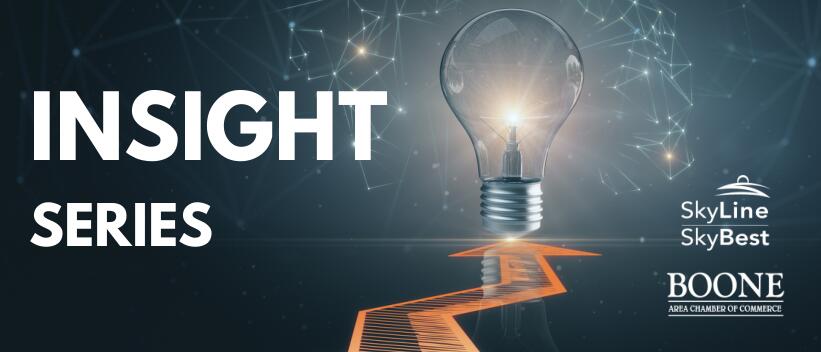 Under the umbrella of the Watauga Leadership Institute, the Boone Area Chamber of Commerce is pleased to announce the return of the Insight Series, beginning September 1st. The four-part professional development series is presented by Skyline/Skybest, and will be offered in quarterly gatherings that over the next 10 months.
Attendees will hear from established professionals about challenges overcome and opportunities realized throughout their careers. Topic areas include entrepreneurial development, diversity in the workplace, ideation, and readying a workforce built for tomorrow's jobs.
The events are scheduled for Wednesday, September 1st; Tuesday, November 30th, Thursday, March 24th, and Wednesday, June 1st. All events run from 6:30-8:30 pm and are scheduled to be held at Fairway Café at Boone Golf Club.
Each session begins with dedicated networking time prior to speaker presentations, along with light refreshments in a casual atmosphere.
"The Insight Series provides our participants the opportunity to have impactful conversations with some of the great business minds in the State of North Carolina," said David Jackson, President/CEO of the Boone Area Chamber of Commerce. "We've created a blend of perspectives including those that have achieved success off the mountain who present alongside some of our region's most successful professionals. The goal is to show our attendees that the opportunities and challenges experienced by our group of presenters are similar to what they experience on a daily basis. Sometimes it's helpful to know that someone else understands what you are going through, and the conversations and connections that come out of these sessions could be the springboard to the next professional accomplishment for everyone in the room."
Expert guests for our first installment include Will McGuire, Chief Crowdfunding Officer for CrowdfundNC & Sarah Long, Owner of 828 Real Estate, presenting The Right Tools to Grow. The duo will cover how to connect the next big idea with the right funding source, while keeping in mind the unique attributes that help build a successful brand.
In November, Cecilia Holden, CEO of MyFutureNC and Byron Hicks, State Director of the NC SBTDC, present The Skills that Pay the Bills, and discuss degree attainment, the importance of prioritizing skills gained, and how the right education can lead to starting a businesses without mounds of student debt.
Presenters for the final two sessions will be announced in late fall.
Attendees can purchase an all-access pass, guaranteeing a seat at each event in the series for $120. Individual session seats will be available for $35, subject to availability.

For questions regarding the Insight Series, contact the Boone Area Chamber of Commerce at info@boonechamber.com or call 828-264-2225.