2023 Economic Indicators: Q1 Release

The Boone Area Chamber of Commerce released the Q1 Economic Indicators report of 2023.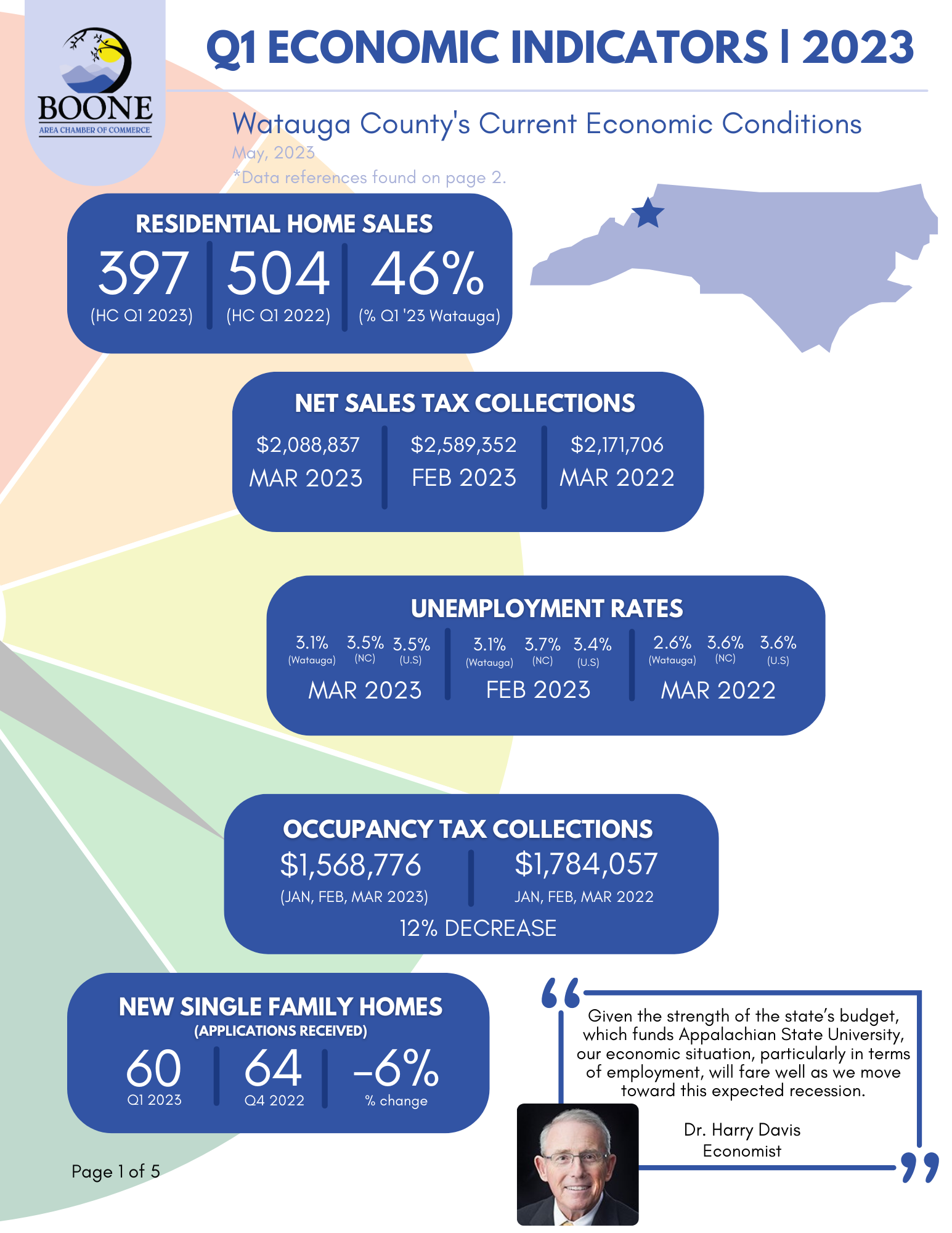 This quarterly report examines five key statistics within the Watauga County & High Country Economy, featuring a summary of local impacts by Dr. Harry Davis, Appalachian State and North Carolina Bankers Association Professor and long-standing regional economist. The report includes quick stats and commentary on local commercial real estate activity provided by James Milner, CCIM, Appalachian Commercial Real Estate. New for this report, a summary of the residential real estate market was supplied by Stacie Pineda, Stacie Pineda Real Estate Group.
Data was compiled for residential home sales, net sales tax calculations, unemployment, occupancy tax collections, commercial real estate permit applications and transactions, and applications for permits of new single-family homes. These figures include the most recent data released for each category as well as historical data to help establish trends and further context toward the area's economic stability.
"Just like the nation is experiencing, this report provides evidence of some expected leveling off from the historic highs our area experienced during the COVID-impacted economic times," said David Jackson, President/CEO of the Boone Area Chamber of Commerce. "As we hear more economists echoing what Dr. Harry Davis shared with us back in January regarding a looming mild recession, we're reminded that historically speaking the High Country has fared better than most during similar events."

"We remain an attractive regional destination for those who may be tightening their travel budgets, and our area provides numerous free and affordable activities that naturally pull people in our direction", Jackson continued. "We are also benefited by strong regional employers, like Appalachian State University, Appalachian Regional Health Care System, and others who will continue to drive economic activity and employment in our region. This is a great time for businesses and families to re-dedicate themselves to prioritizing local purchasing decisions, especially as many organizations are in the midst of budget planning season. Our actions in supporting one another can be another welcome step in helping alleviate some of the burden of these economic pressures."