Visitors Information
Visit these links to get information for your next stay in our area

Lodging | Shopping | Dining | Attractions
Below you will find answers to some of the most commonly asked questions regarding the Boone area.  For additional questions, please contact the Boone Area Chamber of Commerce at info@boonechamber.com or call 828-264-2225.
---
What are some Valentine's events/specials in the High Country?
Events:
February 8: Chocolate Art Craft Night at Beech Mountain Parks & Recreation
February 10-12: "I Love You, You're Perfect, Now Change" with Blue Ridge Community Theatre and Appalachian Theatre
February 11-12: Be a Sweetheart with Mast General Store
February 14: Pop-Up Valentines Dinner with Happy Valley Filling Station
February 14: "The Notebook" at Appalachian Theatre
February 17-18: Valentine's Dinner at Mast Farm Inn
Specials:
Relax with a Loved One with River Birch Sauna
Experience a Renewed Sense of Love & Connection with 180 Float Spa
Have an event/special you want to add to this list? Email emma@boonechamber.com.
---
Current weather and future forecast?
Ray's Weather is a station on Blowing Rock Road in the heart of Boone with accurate forecasts updated daily. 
---
What are some family-friendly events and activities?
The High Country is home to fun-filled events for all ages in every season. Below are some high-traffic events going on this month!
Recurring Events:
For a full High Country Calendar of Events, visit these websites!
High Country Host Explore Boone
---
Where can I find information on local ski resorts?
Appalachian Ski Mountain Beech Mountain Resort  Sugar Mountain Resort
---
When is Peak Week for the leaves?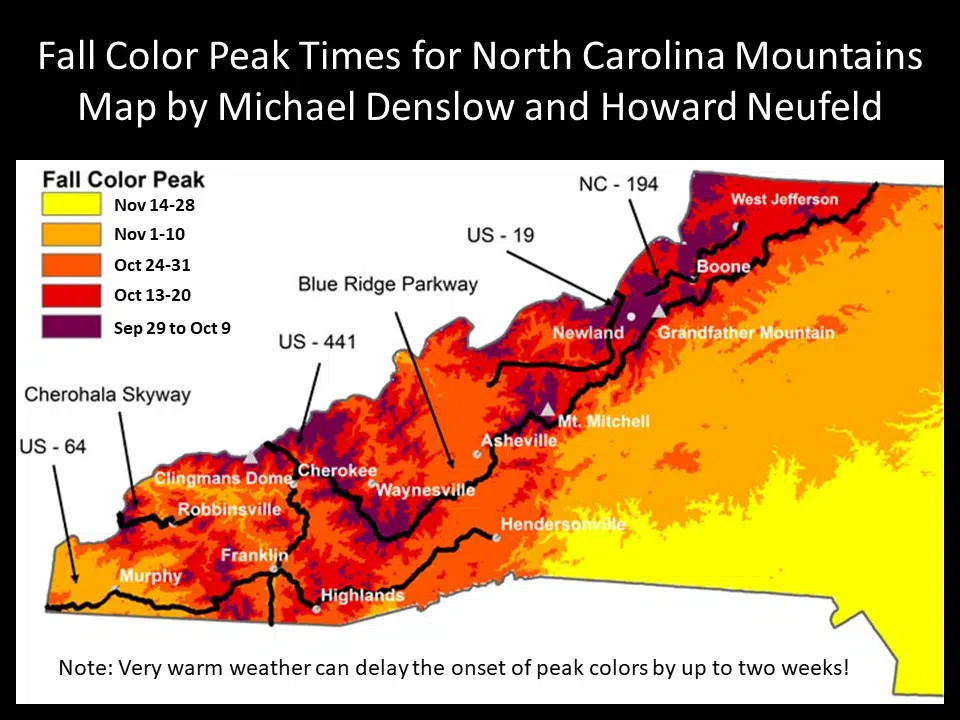 Peak Week usually "falls" around mid to late October.
---
Where is the best place to admire the fall foliage?
While all of Boone and it's surrounding areas offer beautiful views of the unique fall colors of the mountains, the Blue Ridge Parkway is among the most popular.
Our State has compiled a list of top places throughout Western North Carolina to view the foliage, and it includes a guide of how "peak" each location is, as well as other important information.
---
Where can I find information on local Christmas tree farms?
Choosing your own Christmas tree from a Boone Area tree farm is a memorable experience for the entire family. Some farms offer Christmas-themed crafts and gifts, hot cocoa or cider, cookies, hayrides, farm animals to pet, antique machinery to admire, and spectacular views. High Country tree farmers will also to ship their perfectly proportioned trees all over the world - but the choose & cut tradition of old is still alive and well - and close to home in the Boone area.