CACCE Presents Meyer with Lifetime Achievement Award
Date posted
October 4, 2019
Carolinas Association of Chamber of Commerce Executives (CACCE) Recognizes Lifetime Achievement Award Recipients for 2019
Press Release submitted by CACCE 
Myrtle Beach, SC – The Carolinas Association of Chamber of Commerce Executives (CACCE) recognized two new Lifetime Achievement Award recipients at their Annual Management Conference held today at the Embassy Suites Oceanfront Resort in Myrtle Beach, SC.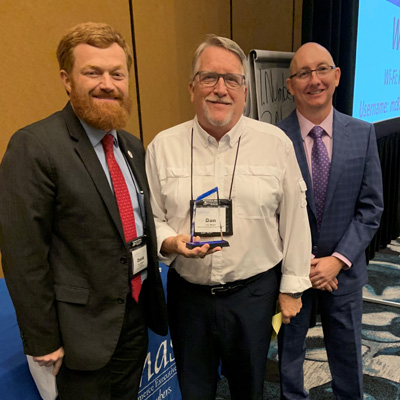 Two former chamber professionals were honored as recipients of this prestigious designation for 2019:(1) Ben Haskew, formerly with the Greenville (SC) Chamber of Commerce
(2) Dan Meyer, formerly with the Boone Area (NC) Chamber of Commerce
This pinnacle award – formerly known as Honorary Lifetime Membership – is bestowed by CACCE on individuals who have retired after respectable and stellar careers in chamber leadership. Qualifications for nomination include five continuously active years of membership in CACCE at the chamber where the candidate most recently served; was a chamber professional for a minimum of ten total years; and honorably retired from the chamber profession for at least two years.
CACCE has bestowed this award on 34 professionals over the years, and we are honored to add Ben and Dan to this prestigious list.
CACCE is the professional development organization dedicated to providing educational opportunities for chamber of commerce executives and staff members in North Carolina and South Carolina. CACCE equips chamber of commerce professionals with leadership skills and tools to build innovative chambers. The organization was formed in 1994 when the North Carolina and South Carolina state chamber associations merged. For more information on CACCE, or any of CACCE's conferences or programs, contact Tiffany Fulmer Ott at (404) 312-0524.