4th Annual 4 Under 40 Awards (Virtual) Scheduled for July 23rd
After several months of COVID-19 pandemic-related postponements, the Boone Area Chamber of Commerce is excited to announce arrangements for the 4th Annual 4 Under 40 Awards Ceremony.
This annual showcase of emerging leaders is presented by Appalachian Commercial Real Estate, with additional sponsorship support coming from BB&T, Boone Drug, Inc, and Mast General Store.
The event will live stream from Harvest House in Boone on July 23rd, 2020 from Noon-1:00pm, with winners being announced in the following categories: Business Owner, Rising Star, Non-Profit Business Professional, and Education.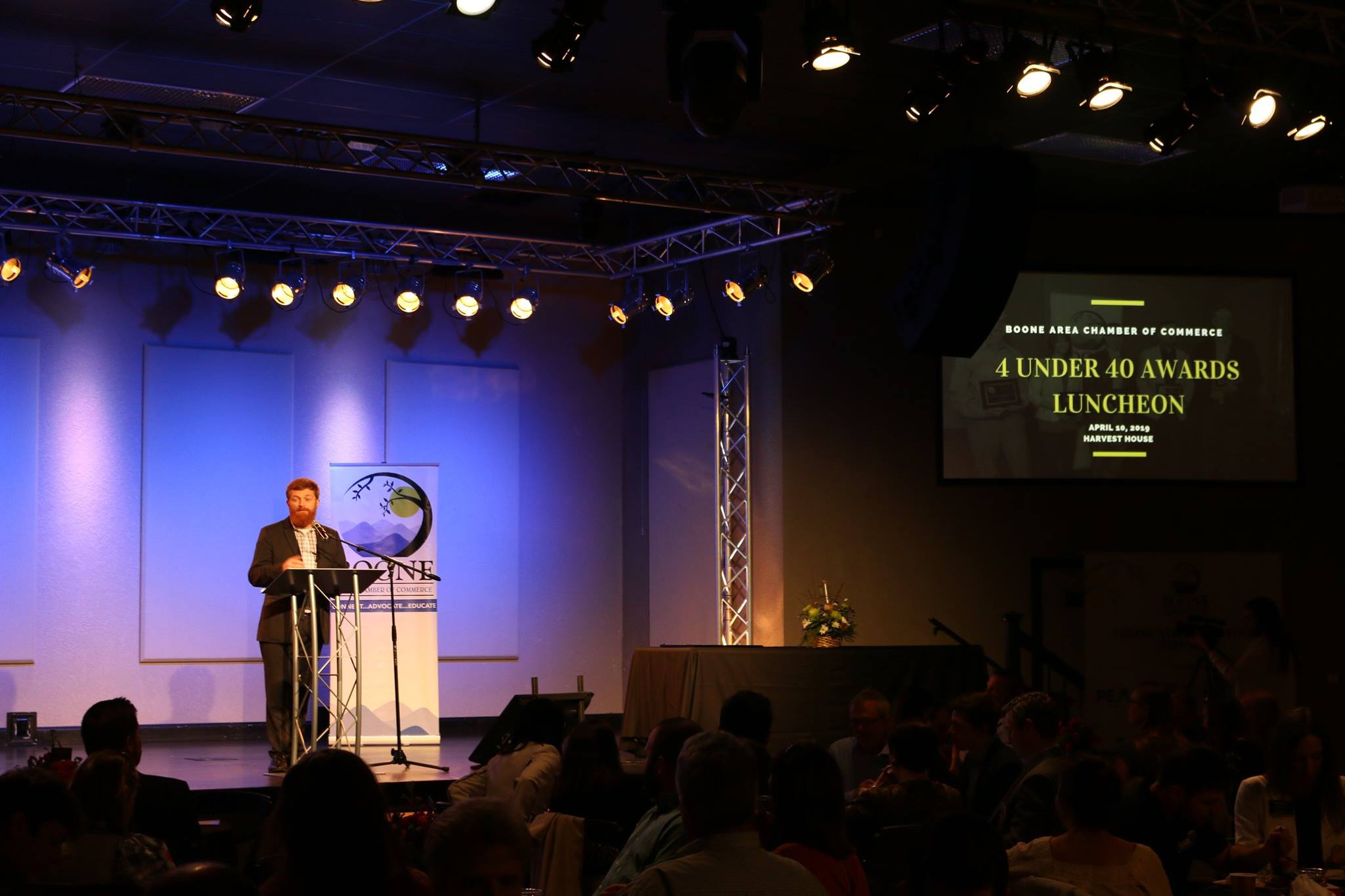 Finalists in each category include:
Business Owner -
Bill Aceto, Blue Ridge Realty & Investments, LLC
Madelyn George, The Lavender House
Ben Harmon, Clean Eatz
Seth Sullivan, The Cardinal
Rising Star -
Brady Combs, Combs, Tennant, & Carpenter PC
Mark Mashburn, Century 21 Mountain Vistas
Andrea Morton, The Horton Hotel and Rooftop Lounge
Danielle Neibaur, The Inn At Crestwood
Non-Profit Business Professional -
Nicholas Eichen, Watauga Humane Society
Ashley Galleher, Valle Crucis Community Park
Molly Jones, Hope Pregnancy Resource Center
Lane Moody, Downtown Boone Development Association
Education -
Laura Barry, Watauga High School
Lauren Foster, Lees-McRae College
Rob Gelber, AppTV
Olivia Tarnowski, Watauga High School
In addition, the 2020 Respect Your Elder Award will be presented to a mentor who makes a deep impact by serving as a motivator and influencer to our emerging leaders of tomorrow.
"Although this year's 4 Under 40 Awards Ceremony will be done in a non-traditional way, we are excited and ready to celebrate these young leaders in our community," said Boone Area Chamber of Commerce President/CEO David Jackson. "Strong leadership in Boone and the High Country remains a large component driving the success of our community. Based on the economic and social challenges we have faced in recent months, we need additional voices to emerge in leadership roles now more than ever. By recognizing these young influencers, we hope to develop a platform of support, along with opportunities for future business partnerships, to ensure that Boone remains the thriving and flourishing area that we love."
Current guidance in North Carolina's Phase 2 guidance does not allow for mass indoor gatherings, thus no tickets will be sold to the public at this time. We encourage community and family members to join us for the live stream or tune in via our local media partners, who will re-broadcast the event at a time to be announced. Social distancing guidelines will be strictly followed by those involved in the ceremony.
Find more event details here or reach us at info@boonechamber.com