2023 Watauga Leadership Institute Cohorts Begin Coursework
Date posted
January 31, 2023

The 2023 class of the Watauga Leadership Institute kicked off their coursework with an all-day retreat at Valle Crucis Conference Center January 25th. The event marks the beginning of a 12-week community development program that includes 44 total participants between two cohorts.
Watauga Leadership Institute (WLI) is a work program administered by the Boone Area Chamber of Commerce and encompasses all leadership development programming offered by the organization. Over 500 participants have engaged in Watauga Leadership Institute programming since 1998.
The program is made possible thanks to co-sponsors Beech Mountain Resort, Blue Cross Blue Shield of North Carolina, and Peak Insurance. Additional program support comes from Carolina West Wireless, LifeStore Bank, Mast General Store, and the Walker College of Business at Appalachian State University.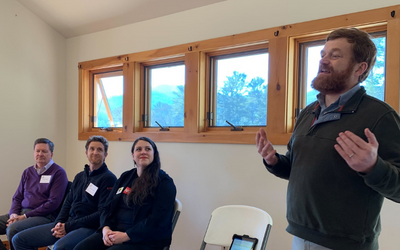 Watauga Leadership Challenge focuses on leadership development and community emersion and is often attended by those new to the High Country community. Watauga Leadership Development is focused on leadership skills development and is attended by professionals who have already achieved mid-upper-level leadership status within their business or organization. Cohorts run annually from January through April.
"With the opportunities and challenges we face daily in the High Country, the value of strong community leadership has never been more important," said David Jackson, President/CEO of the Boone Area Chamber of Commerce. "Watauga Leadership Institute gives us a great vehicle to help participants build on their own strengths in leadership, while also understanding how those skills will benefit their personal and professional interests. Many of the participants in our programs become more engaged in local community activities, like serving on non-profit boards or coordinating volunteer support for agencies or organizations. We also find that many use the skills gained for professional advancement, and will use this program to further develop their thoughts on self-awareness, organizational culture, diversity, and conflict management among other topics."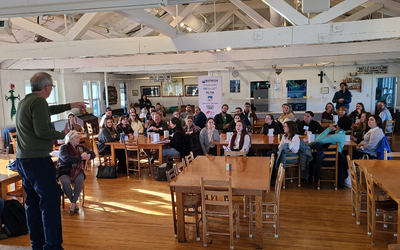 The Watauga Leadership Institute curriculum is coordinated by Dr. Jim Street, Owner of Ridgeline Leadership, and retired leadership educator at Appalachian State University. Following a 36-year career in higher education, Dr. Street offers leadership development training and personal coaching to businesses and organizations throughout the Carolinas. He is an Associate Certified Coach through the International Coaching Federation and completed Gallup's Strengths Coaching Program in 2020.
"We have a wonderful collection of participants in this year's cohorts," said Dr. Street. "Each group sets their own operational norms and goals, and I enjoy watching them work together as a group. Our participants tend to stay connected with one another, long after the graduate the program, which is powerful in its own special way. The relationships that are forged are deeply rooted in trust, respect, and thoughtfulness. There have been dozens of instances where ideas discussed in our sessions will turn into a business opportunity or an outlet for community outreach. It's another way we are able to show that communities are strongest when people are actively working to support one another."
2023 Watauga Leadership Challenge Roster
| | | |
| --- | --- | --- |
| Name | Business | Title |
| Shirley Alexander | Booneshine Brewing Company | General Manager |
| Ann Alexander | Lovill House Inn | Innkeeper/Manager |
| Lola Benfield | High Country Area Agency on Aging | Family Caregiver Support Specialist |
| Shelley Bentley | LifeStore Bank | AVP / Sr. Credit Analyst |
| Taylor Campbell | The Hope Center | Director of Operations |
| Erika Cheung | Appalachian State - Senior Associate AD | Sr Assoc Athletic Director & SWA |
| Chelsea Cutler | Discovery Dog Training, LLC | Owner |
| Austin Delp | Appalachian Regional Healthcare System | Talent Acquisition Coordinator |
| Agnes Fox | Safe Harbor NC | High Country Administrator |
| Nathan Godwin | Watauga County Habitat for Humanity | Director of Development |
| Mariana Greene | New River Light and Power | Public Communication Specialist |
| Carrie Henderson | Boone Area Chamber of Commerce | Director of Events |
| Martin Hubner | Caldwell Community College & Technical Institute | Director, Business Administration |
| Nathaniel Johnson | Granite Insurance Agency | Business Risk Consultant |
| Kayla Lasure | Hunger & Health Coalition | Volunteer & Intern Coordinator |
| Nick London | VPC Builders | General Manager |
| BJ Maynard | Nordic PC | Operations Manager |
| Becca Nenow | Resupply; Town of Boone | Business Owner; Councilperson |
| Dr. Rachel Shepherd | Watauga County Schools | Assistant Principal |
| Billie Shilling | Hampton Inn & Suites | Operations Supervisor |
| Kristina Smith | New Peoples Bank | Commercial Banking Assistant |
| Marissa Winkler | Appalachian State - Conference & Event Services | Business Office |
| Hannah Woodburn | MountainTrue | Watershed Outreach Coordinator |
| Dr. Jason Xiong | Appalachian State - Walker College of Business | Associate Professor |
| Matthew Zemba | First Community Bank | Business Development Officer |
2023 Watauga Leadership Development Roster
| | | |
| --- | --- | --- |
| Name | Business | Title |
| Peter Barr | ECRS | Deployment and Service Manager |
| Matt Baudoin | ECRS | Scrum Master |
| Brittany Benton | ECRS | Customer Care Manager |
| David Byerly | Samaritan's Purse | Business Systems Coordinator |
| Frank Byrd | Chetola Resort | Group Concierge Manager |
| Abby Carson | The Horton Hotel | Director of Hotel Operations |
| Caroline Catoe | ECRS | President |
| Erin Cram | The Beacon Butcher Bar | Front of House Manager |
| Morgan Cross | ECRS | Director of Human Resources |
| Sarah Crouch | OASIS | Director of Community Programs |
| John-Henry Ellis | ECRS | Director of Hardware Management |
| Zack Green | High Country Council of Governments | Director, Area Agency on Aging |
| Rebecca Hall | High Country United Way | Executive Director |
| Rob Lewis | ECRS | IT Director |
| Shannon MacLaughlin | ECRS | Support Desk Coordinator |
| Beth Meyer | ECRS | Inventory Manager |
| Megan Miller | ECRS | Director of Accounting |
| Pavan Mudiam | ECRS | Project Manager |
| Danielle Neibaur | The Horton Hotel/The Inn at Crestwood | General Manager / Owner |