OASIS Inc: Children's Program Coordinator
Date posted
February 2, 2023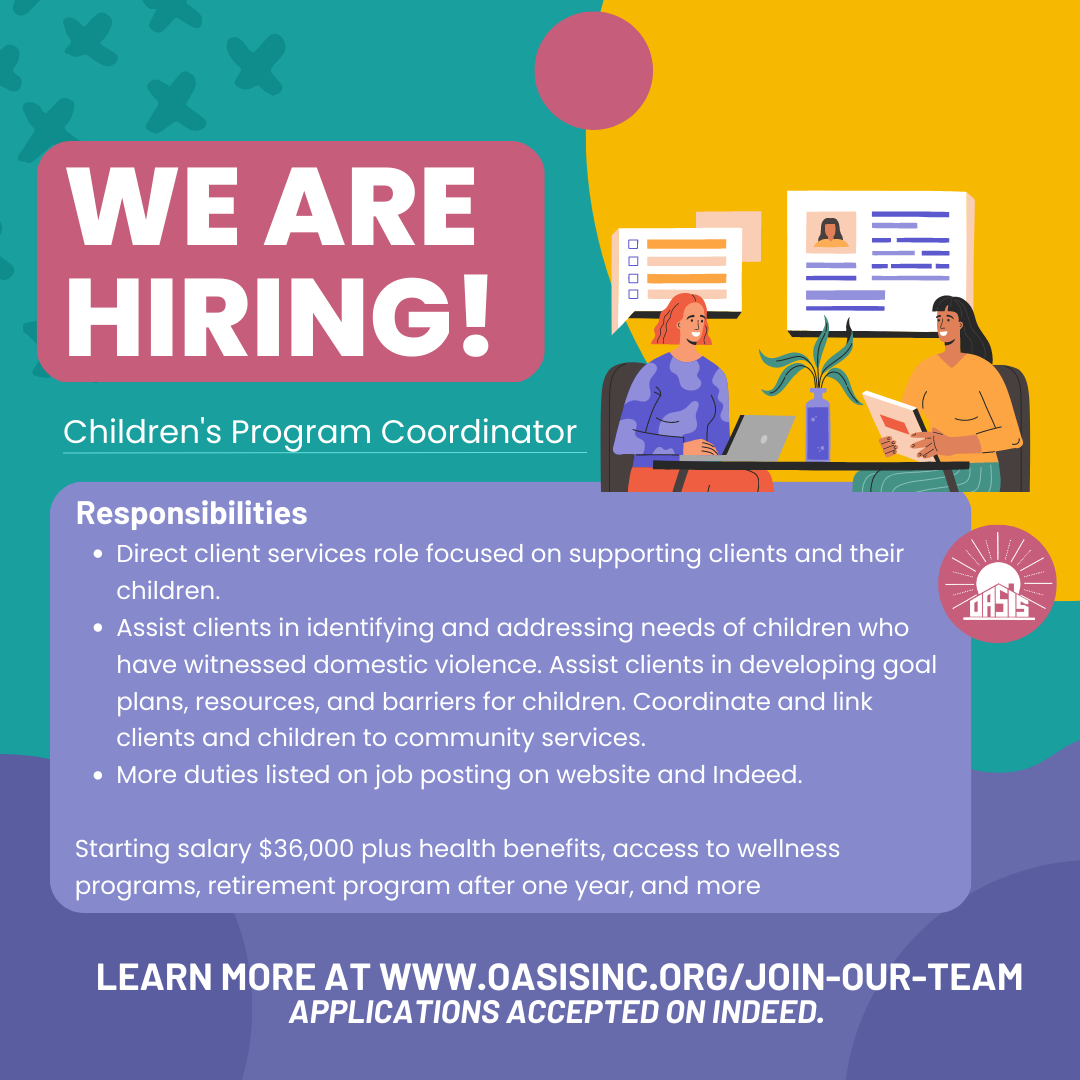 OASIS, Inc., a non-profit agency serving victims of domestic and sexual violence in Watauga and Avery Counties, is seeking a full-time Children's Program Coordinator. Responsibilities include: some weekend and overnight shifts in our emergency shelter (located in Watauga County) as well as office shifts, crisis response, children's services coordination, case management, court advocacy, and serving as a community liaison for OASIS.
Qualifications: Relevant four-year degree and previous experience in human services field preferred. Excellent communication skills, organizational skills, and basic computer skills required. Must have reliable transportation. Those with Spanish language skills are especially encouraged to apply. Starting salary is $36,000 plus benefits. Salary Adjustments Salary/bonus adjustments are considered on an annual basis and are determined by funding availability and job performance.
Responsibilities:
1. Coordinate the Children's Volunteer program, supervising volunteers who provide emergency childcare and support group/life skills childcare. Take lead role in hiring and coordinating training.
2. Coordinate the Children's Services Program and related support services for children and families accessing OASIS services.
3. Provide case management and life skills for OASIS clients and children. Assist clients in identifying and addressing needs of children who have witnessed domestic violence. Assist clients in developing goal plans, resources, and barriers for children. Coordinate and link clients and children to community services.
4. Coordinate services with the Children's Council of Watauga County, Inc. and all other relevant children's services organizations in the service area.
5. Assist the Director of Client Services with the coordination of domestic violence and sexual violence support groups. Coordinate logistics such as facilitators, time, location, meals, group guidelines, children's group, and volunteers/interns.
6. Provide overnight and daily supervision of shelter residents during assigned working hours.
7. Carry staff cell phone to provide on-call services during shelter shifts and provide backup for shelter substitutes and crisis line workers. Utilize shelter volunteers as needed.
8. Assist other shelter staff and clients with completion of household tasks such as cleaning, changing linens, trash removal, lawn maintenance, shoveling snow, etc. and ensure that shelter is safe, clean, and equipped to meet clients' needs.
9. Work to identify and implement safety needs among residents and provide trauma-informed support for crisis intervention.
OASIS Employment Expectations:
1. Interpersonal, communication, conflict resolution, and coordination skills to effectively help people in crisis, create a supportive environment, and advocate with community partners.
2. Participate in monthly staff meetings, clinical supervision, and staff development activities.
3. Non-judgmental approach toward people that conveys respect for the individual's inherent value, and an understanding of how the impact of poverty and trauma affects people in different ways.
4. Administrative and computer skills (e.g., database entry, MS Office Suite experience – Word, Excel, PowerPoint and/or Prezi) to complete case notes, reports/statistics, record-keeping, and communication requirements.
5. Ability to work with constant interruptions (visitors, phone calls, changing priorities depending on agency needs, etc.) Flexibility and willingness to pitch in and do whatever is needed to serve clients.
6. Excellent time management, communication (oral and written), and organizational skills.
7. Must meet the necessary Motor Vehicle Record Check requirements set forth by Philadelphia Insurance Companies, have a valid Driver's License, and up-to-date vehicle insurance to operate the OASIS vehicle when necessary.
8. Agreement with OASIS mission, vision, and philosophy.
Job Type: Full-time
Pay: From $36,000.00 per year
Benefits:
Employee assistance program
Health insurance
Life insurance
Paid time off
Parental leave
Retirement plan
Vision insurance
Schedule:
12 hour shift
8 hour shift
Application Question(s):
Please describe your understanding of Intimate Partner Violence/Domestic Violence and the role of an advocate.