Member News: Jackson Sumner & Associates Announces New President & CEO, Chairman of the Board
Date posted
January 10, 2019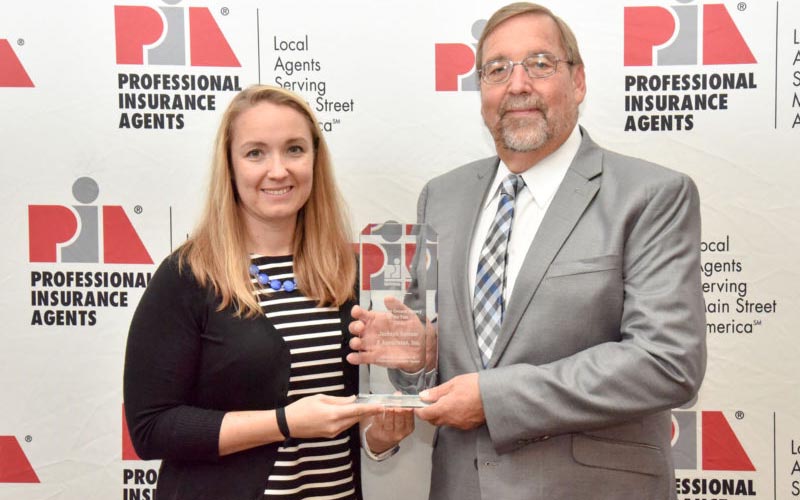 News release submitted by Jackson Sumner & Associates
Jackson Sumner & Associates (JSA) Board of Directors recently announced Danielle Wade was elected as President & Chief Executive Officer, with Wayne Sumner to move to Chairman of the Board of Directors.
Wade, who served JSA most recently as Chief Operating Officer, has been with the company since 2006. She is a graduate of the Kenan-Flagler Business School of UNC-Chapel Hill. She earned her CPCU and CIC in 2008 and completed the NAPSLO Executive Leadership School at the University of Virginia's Darden School of Business in 2014 as well as AAMGA's Under Forty Organization (UFO) Leadership Education Program.
Currently, Wade is the Chair of the NC Stamping Office, serves on the Education Foundation Board of the Wholesale & Specialty Insurance Association (WSIA), is the Chair of the Brantley Risk and Insurance Program's Advisory Board at Appalachian State University, serves on two Insurance Company Advisory Boards, as well as East Carolina University's Risk Management & Insurance Program's Advisory Board. She was President of the NC Surplus Lines Association from 2014-2016 and President of AAMGA's UFO from 2015 to 2016. Wade was recognized by Insurance Business of America as one of the "Top Young Guns" for 2016.
Sumner, who founded the company in 1981, emphasized that he was not retiring. He will still be at the office; imparting his wisdom, sharing knowledge and dispensing fatherly advice; as well as continuing to facilitate the video and live educational broadcasts that JSA is known for in serving the IIANC, IIAV, IIABSC, and PIA. "I may just take a little more vacation than I used to," he said with a laugh.
"Having a thoughtful succession plan of this caliber allows JSA to continue as an independent force in the industry for decades to come," stated Sumner. "This company was built on dreams I had over many years. There were mountains I wanted to climb, and I climbed many of them. But now I want to be able to get out of the way and let others climb their own mountains and dream their own dreams. It's time for Danielle and her team to blaze the trails."
"This is a journey that my father began," stated Wade. "With our amazing team and the incredible paths that have been forged, I have no doubt there are still new heights to achieve."
***********
An MGA with Genuine Care
Jackson Sumner & Associates (JSA) is an Excess and Surplus Lines Managing General Agent (MGA) that began in 1981 in Boone, North Carolina. JSA offers a wide range of insurance products including property, casualty, automobile, garage, professional liability, and personal lines. We are licensed to do business in North Carolina, South Carolina, Virginia, Georgia, Tennessee, and Maryland. JSA is committed to quality service for our agents and strong underwriting for our companies.JSA was named the 2018 MGA of the Year by the National Association of Professional Insurance Agents (PIA) in September of 2018. Learn more about the ease-of-doing-business with JSA at www.jsausa.com.