Limited Space Remains for 2022 Watauga Leadership Institute
Date posted
January 3, 2022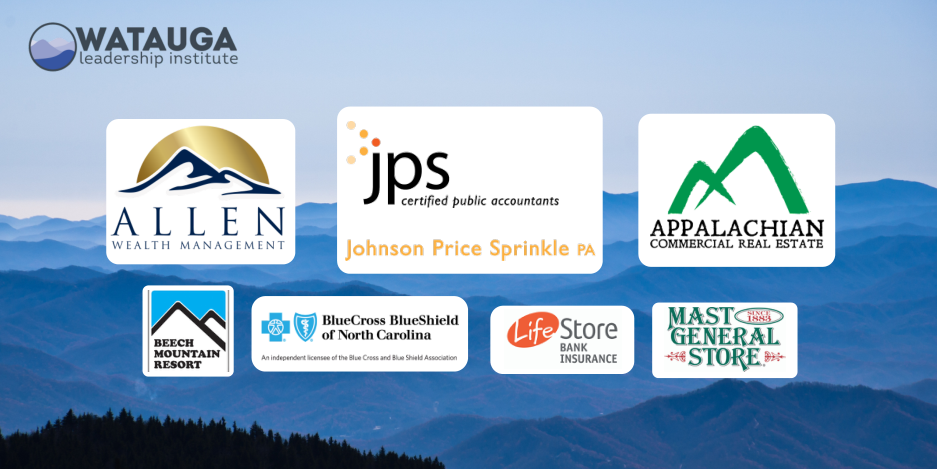 As the new year begins, now is a perfect time to invest in your professional development. Limited space remains for the 2022 Watauga Leadership Institute cohorts.
WLI is a comprehensive leadership development program designed to meet our community's need for active participation of informed and educated leaders. Graduates of WLI programs enjoy lifelong networking opportunities with over 300 program alumni.
Watauga Leadership Institute programming is made possible thanks to the support of Allen Wealth Management, Johnson Price Sprinkle, PA, and Appalachian Commercial Real Estate.
The 2022 experience begins with a kickoff retreat, Thursday, January 27th, at Appalachian Ski Mountain. Regular class sessions begin February 17th and will alternate every other week through mid-spring. The program culminates with the annual Watauga Leadership Institute Alumni Gathering, May 23rd, lakeside at Chetola Resort.
"Helping members of our local business community achieve professional growth and success rests among the core elements of the mission of the Boone Area Chamber of Commerce," said David Jackson, President/CEO. "We are inspired by the Watauga Leadership Institute participants each year and their willingness to invest in their future career aspirations. We benefit from numerous program alumni and other community leaders who share a commitment to showcasing locally identifiable examples of how leadership can impact people, organizations, and the High Country as a whole."
The Boone Area Chamber of Commerce remains committed to hosting events with safety and responsibility in mind in relation to the COVID-19 pandemic. Class sizes are reduced for 2022 to allow for more space in meeting rooms and other locations. The BACC team is in regular consultation with AppHealthCare regarding community conditions and participants will be required to observe any mandates required by local municipalities during the program.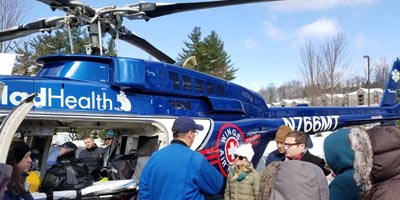 The Watauga Leadership Challenge course gives participants the opportunity to broaden their understanding of leadership and to see themselves as agents of change in their associations, their places of work, their community, and in their own lives.
To develop the capacity to lead, one must have a keen sense of self awareness, an understanding of others, a recognition of how people work together in teams and organizations, and an awareness of the greater community.
Watauga Leadership Challenge strikes a balance between understanding leadership and understanding the community. Participants will have the opportunity to interact with business and community leaders who are finding ways to bring people together for change.
View the full WLC course outline here. Sessions following the retreat will meet at the Hampton Inn in Boone, NC.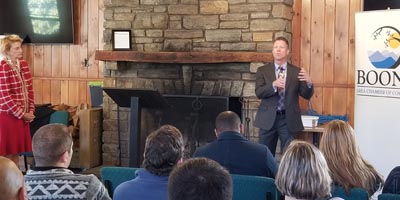 The Watauga Leadership Development course provides participants the opportunity to take a deeper dive into understanding leadership and the competencies required for effective leadership in work, community, and in life.
The program focuses on authentic leadership and covers competencies that are critical in the leadership process.
View the full course outline here. Sessions following the retreat will meet at the Hampton Inn in Boone, NC.
Additional support for Watauga Leadership Institute programming comes from businesses that routinely send participants through the courses, like Mast General Store, Beech Mountain Resort, and LifeStore Bank.
For more information, including pricing, visit the Watauga Leadership Institute homepage, or contact the Boone Area Chamber of Commerce at 828-264-2225 for further details.