Member News: Jackson Sumner & Associates Wins National Award
Date posted
October 12, 2018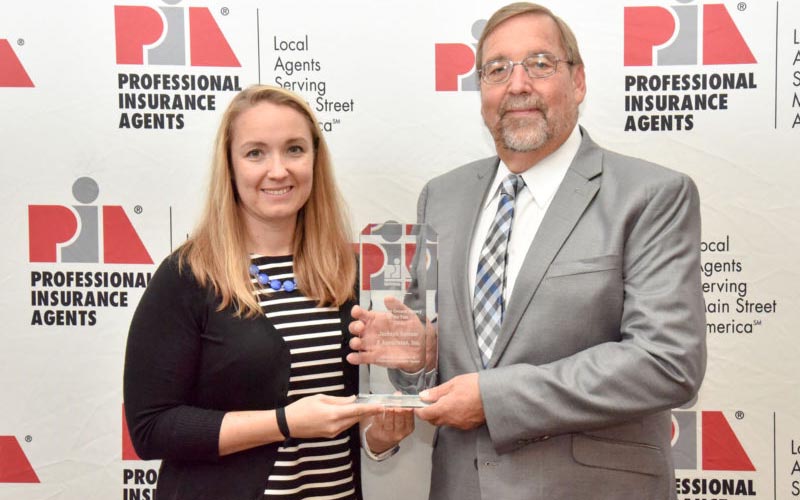 News Release Prepared By Jackson Sumner & Associates
Jackson Sumner & Associates (JSA) has been named the 2018 Managing General Agent (MGA) of the Year by the National Association of Professional Insurance Agents (PIA) during the PIA Fall Governance Meeting award luncheon on Sept 28th in Portland, Maine.
The PIA judging criteria for this award included the winning MGA's "successful efforts to create a better business environment for professional insurance agents," as well as their abilities to further the interest of agents and a commitment to the agency system according to the PIA application.
The MGA of the Year is PIA's highest honor that an MGA can achieve. It recognizes the achievements of one Managing General Agent who is an outstanding member of PIA. JSA was chosen for this award on the basis their commitment to agents and the insurance industry through their live broadcasts of annual conventions in the Carolinas and Virginia, offering CE courses in-person or online, involvement in university-level risk management and insurance programs, industry association leadership, and various marketing tools designed for agents' use and education, regardless of the agency's size.
"Our work is to make the work of being an Independent Insurance Agent easier," said JSA President and Founder, Wayne Sumner who accepted the award on behalf of the entire JSA staff. "We understand that brokered business is an unfamiliar territory for most of our agents, so we strive to assist agents through the process with ease every step of the way."
"That's our job," explained JSA Chief Operations Officer Danielle Wade, who was also in Maine to accept the award. "It's always been our job to do business with agents how they want to do business and provide them with better tools all the time which allow them to do their job more efficiently and profitably. We wouldn't be here without the agents, so this is a huge honor."
An MGA with Genuine Care
Jackson Sumner & Associates (JSA) is an Excess and Surplus Lines Managing General Agent (MGA) that began in 1981 in Boone, North Carolina. JSA offers a wide range of insurance products including property, casualty, automobile, garage, professional liability, and personal lines. We are licensed to do business in North Carolina, South Carolina, Virginia, Georgia, Tennessee, and Maryland. JSA is committed to quality service for our agents and strong underwriting for our companies. Learn more about the ease-of-doing business with JSA at www.jsausa.com.