Healthy Heart Collaborative Stages 2nd Annual Cardiac Health Awareness Campaign
Date posted
February 22, 2019

A community alliance that includes several Boone Area Chamber of Commerce members continues their work to raise awareness about cardiac health and education.
The Healthy Heart Collaborative is a combination of efforts from The Omar Carter Foundation (OCF), a non-profit agency focused on cardiac health awareness and training, Appalachian Regional Health Care System (ARHS), the Beaver College of Health Sciences (BCHS) at Appalachian State, the Wake Forest School of Medicine Physician's Assistant program, and Appalachian State Athletics. For the second straight year, the group has pooled resources to create a multi-day awareness campaign that includes opportunities to engage community members of all ages.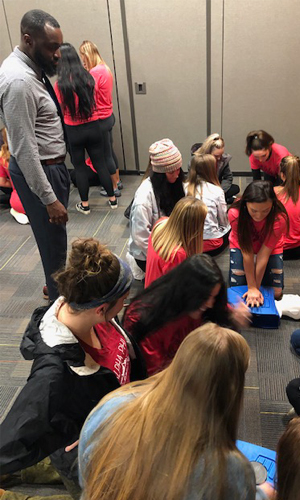 "I am excited to see what the Healthy Heart Collaborative has achieved together in the last two years," said Omar Carter, founder of the Omar Carter Foundation. "We continue to find new ways to connect with people and that's really what this is about. I have a story to tell and through that story we have connections to respected professionals and resources than can continue to help educate people about the importance of cardiac health, being able to administer CPR, and knowing how and when to safely operate AEDs. I can't thank the community enough and I can't want to see what we add to the mix next year."
Throughout the month of February, faculty in the BCHS have dedicated class time to train students in how to properly administer chest compressions should someone be in need of CPR. In addition, faculty members have taught on the use of Automated External Defibrillators (AEDs), including proper maintenance and upkeep protocol of these devices.
Carter has presented to several student and staff groups at Appalachian State throughout February. He performed bystander CPR training with Appalachian State Athletics department coaches, staff, and student athletes. He also teamed with the Alpha Phi Sorority to present training and a Q&A session to participants of a variety of campus Greek organizations.
As the Healthy Heart Collaborative continues to engage new community groups for training and outreach, ARHS and OCF teamed with the Boone Area Chamber of Commerce for a trial training session for staffs of area businesses. During a lunchtime session Thursday, February 22nd, OCF and The Cardiology Center trained the staff of Allen Wealth Management along with staff from Watauga County Government and members of the Chamber Board of Directors.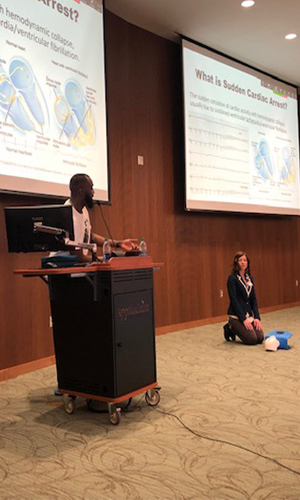 On February 22nd, Carter and ARHS cardiologist Dr. Donna Denier addressed a student assembly at Watauga High School, which included the full WHS student body as well as students from several area middle schools. Carter and Dr. Denier later presented a lecture on Sudden Cardiac Arrest to students, faculty, and staff in the Beaver College of Health Sciences, while also providing another opportunity for bystander CPR training.
We are excited about our ongoing collaboration with the Omar Carter Foundation, Appalachian Regional Health System, and the Boone Area Chamber of Commerce to educate our community about cardiac arrest and the potential to save lives using chest compressions," said Marie Huff, Dean of the Beaver College of Health Sciences. "We trained the majority our faculty and staff in the fall, and they are now in the process of teaching students about bystander CPR in their classes. Our next step is to designate students who will become Healthy Heart Ambassadors, who will enable us to continue our efforts to train individuals across Appalachian State and throughout our community."
Saturday, February 23rd, from 1:15-4:15 pm, OCF and ARHS will provide bystander CPR training at the Appalachian State Basketball game at the Holmes Convocation Center. In addition to training stations and information tables, many awareness events are planned during the game to further educate the audience on cardiac health topics and create more understanding about the vast array of treatment options available in the local community by ARHS.
"The Healthy Heart Collaborative provides a powerful opportunity to save young lives in our community," said Dr. Denier. "Educating students, athletes, teachers, and coaches to recognize and intervene in the event of a Sudden Cardiac Arrest will make a measurable difference."
"Boone and the High Country benefit from an engaged community spirit and the efforts of the Healthy Heart Collaborative are well received because they are genuine in their aim for community betterment," said David Jackson, President/CEO of the Boone Area Chamber of Commerce. "It is encouraging to see just how this effort has grown in two short years. What started as an idea from a couple of App State alumni has turned into a full community outreach initiative. As more businesses, groups, and individuals are educated on these foundational elements of cardiac health, the more awareness we can spread about what it means to be a healthy heart community."
The Omar Carter Foundation creates various events that are community centered and incorporate three areas of focus: education, awareness, and philanthropy. Carter has teamed with Dr. Rohit Mehta, a clinical cardiac electrophysiologist at Sanger Heart & Vascular Institute in Charlotte to create the curriculum to help people become better prepared in the case of a sudden cardiac emergency.