Pedalin' Pig
2968 A HWY 105 Boone, NC 28607
Member
Member Since: 2015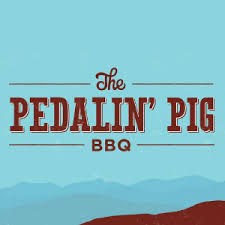 Organization Overview
The pigs have been pedalin long before their Banner Elk debut.
Avid mountain biker and Pedalin owner Ethan Anderson and his crew coined the phrase for their own bikes years ago while taking on the mountains of the Pisgah National Forest.
Part homage to their loud and proud counterpart the infamous Harley Hog, the pigs prefer peaks over pavement.
While the original Wrecking Crew dominated the dirt, the Pedalin Pigs took to the trail, fully-loaded and decked for downhill.
And after the decent, the recovery was almost as sweet as the ride.
When Ethan ventured into the BBQ business in 2014, it was apparent the Pedalin Pig would have a new mountain to call home.
The perfect plate to pair with your next adventure.
Pursue the pig. Beginners welcome.