Back to Events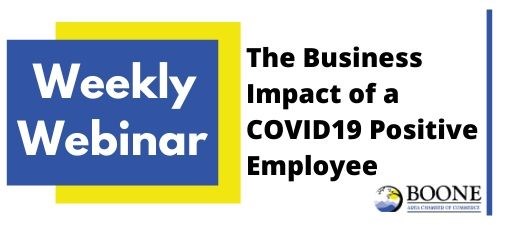 Webinar: The Business Impact of a COVID-19 Positive Employee
Tuesday, July 14, 2020
11:30 AM - 12:45 PM (EDT)
Zoom credentials will be sent following the completion of registration.
Event Details
Webinar: The Business Impact of a  COVID-19 Positive Employee
Business owners and managers have been forced to reexamine a number of daily operating procedures in the wake of the COVID-19 pandemic. Protocols for reopening businesses in a safe and responsible manner have been delivered by State, local, and industry-specific agencies. 
What happens when you have followed all of the rules for the safety of your business, but an employee tests positive for COVID-19? What's the first step? How do you lead staff in a way that ensures you care about their safety? What/when do you tell customers?
These questions and more will be addressed by a panel of experts that have either lived through this operational nightmare, have developed plans to address these issues, or can provide a roadmap for those who have yet to develop a contingency plan for this type of staffing reality.
Panelists Include:
Amy Crabbe, Chief Operating Officer, Appalachian Regional Healthcare System
Jennifer Greene, Public Health Director, AppHealthCare
Todd Hendley, Manager, Ransom Pub & Event Venue
Monica McKinney, Environmental Health Specialist, AppHealthCare
Andrea Morton, Operations Manager, The Horton Hotel
Dr. Jim Street, Founder, Ridgeline Leadership
*Virtual seating is limited, and registration is free to all. 
*Zoom meeting details will be emailed upon registration.