Tips, Tricks, and Traps to Giving Presentations: A Workshop by Gary Plaag
---
Tuesday, February 15, 2022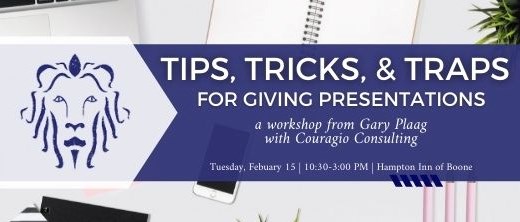 Come learn about general tips to a good presentation, tricks to grab an audience, and presenting traps to avoid on Tuesday, February 15 from 10:30 AM - 3:00 PM at the Hampton Inn Suites of Boone.
Are you the type of person that runs to the front of the room when it's time to speak to a group or audience, or do you quickly find your way to the back?

Speaking in public is an exercise in confidence. Those that speak regularly to audiences, large or small, have honed their skills over time in a way that helps them control the moment. For those that are not as confident in their skills or abilities in this arena, speaking or presenting can feel like an anxiety-rich activity.

Gary Plaag, Owner of Couragio Consulting, helps people learn to thrive as a speaker, and offers you the chance to improve your own skills in a way that will bring a feeling of confidence about your presentation the next time you head toward a podium. 
Admission to this workshop is $75 with lunch provided.
---
Gary Plaag owns and operates Couragio Consulting, a communication consulting practice he started in Northern Virginia in 1998, following a 19-year career in Information Technology. In addition to running Couragio Consulting, Gary taught business communications (undergraduate and MBA) at William and Mary's Mason School of Business in Williamsburg, Virginia from January 2019 until August 2020, and for 7.5 years in the Department of Communication at George Mason University in Fairfax, Virginia.
He has over 23 years of experience conducting seminars and individual coaching sessions for executives and leaders in law enforcement, financial services, information technology, nursing, association management, commercial construction, and other industries. Gary specializes in helping clients develop and hone their presentation and public speaking skills, networking skills, interpersonal communication skills, as well as mitigate performance anxiety and enhance audience engagement.
Gary holds a master's degree in Communication from George Mason University and a bachelor's degree in Government from William and Mary.