Back to Events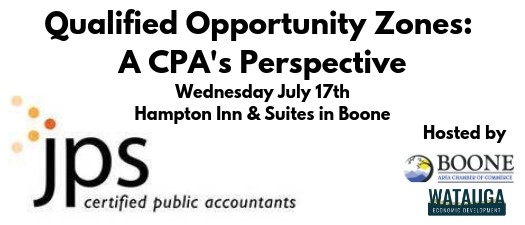 Qualified Opportunity Zones: A CPA's Perspective
Presented by Johnson Price Sprinkle, PA & Watauga EDC
Wednesday, July 17, 2019
* Registration open until 7/17/19 at 8:00 AM (EDT)
Event Details
What is a Qualified Opportunity Zone & How can you benefit?

Qualified Opportunity Zones (QOZ) were created as part of the Tax Cuts And Jobs Act to encourage those with capital gains to invest in economically distressed communities.
Western North Carolina has multiple Qualified Opportunity Zones. "Tax deferrals, permanent exclusion from taxable income, QOZ Funds, tests, 180 days" are terms being bantered.
Come learn about these new tax incentives. What are the qualifications? Can you benefit?
Date/Time/Location:
Wednesday, July 17th   ~ 8:30 – 10:30am
8:30 – 9:00 Registration/Light Breakfast
9:00 – 10:30 Presentation
Hampton Inn & Suites by Hilton ~ 1252 US Hwy 421 South, Boone 
Who Should Attend: 
Investors, Bankers, Economic Developers, Financial Advisors, Real Estate Professionals, Landowners in a Qualified Opportunity Zone, Local Governments, anyone else that may have an interest.
Presenter:
JPS Shareholder Mickey Dale, CPA
For More Information:
David Jackson
President/CEO
Boone Area Chamber of Commerce
(828)264-2225