Lunch & Learn: Your Energy, Your Choice
NRLP's Green Power Program
---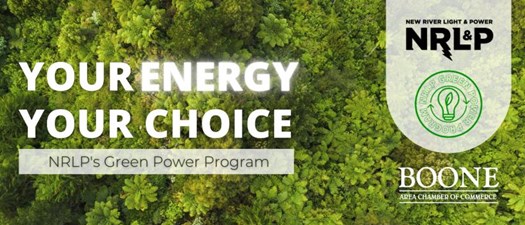 Appalachian State University's New River Light and Power (NRLP) has provided efficient and reliable power to Western North Carolina for over 100 years.  Today, NRLP serves nearly 8,500 residential and commercial customers in and around the town of Boone.
With a new wholesale power agreement on the horizon for early 2022, NRLP has launched the Green Power Program to allow for renewable energy to be purchased to replace carbon-based sources of energy, lowering the carbon footprint of NRLP and the surrounding regional customer base.  
NRLP General Manager Ed Miller joins us for Your Energy, Your Choice, to explain the innerworkings of the Green Power Program, including a breakdown of cost and how to enroll.  
Sustainability experts George Santucci, Sustainability and Special Projects Manager for the Town of Boone, and Andy Hill of MountainTrue's Watauga Riverkeeper will also talk through the potential impacts of the Green Power Program on a local level and beyond. 
*In careful accordance with the Town of Boone's mask mandate, all participants must wear a mask during the Lunch & Learn unless actively eating or drinking.