Developing Your Executive Voice
---
Wednesday, September 4, 2019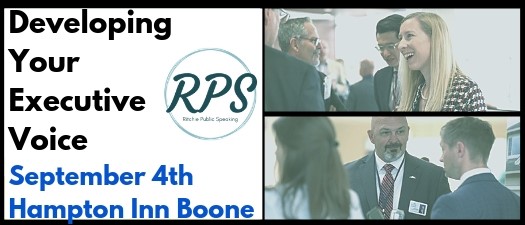 Developing Your Executive Voice
With the general workplace being comprised of many different generations that have unique interpersonal skills, effective communication is an essential skillset for all employees including executives and upper management.
Did you know that communication is the number one complaint that employees have when surveyed about their organization?
In today's corporate world there are many opportunities to efficiently reach every generation through practical communication. With over 20 years of invaluable knowledge, Ritchie Public Speaking, has partnered with the Boone Chamber of Commerce to deliver a comprehensive workshop that helps executives tackle some of the fundamental aspects of effective communication.
Objectives
During this half-day workshop, participants will focus on these key topics:
Learn How to Analyze Your Audience : You will learn how to consider all important factors defining the makeup and demographic characteristics of your audience. There are many pertinent details that define human population characteristics which will affect how well your presentation is absorbed by listeners. Analyzing your audience properly is one of the fundamental aspects in preparing to present to the public.

Overcome Anxiety and Confidence Challenges: You will be taught exactly what causes fear in public speaking situations and the key tactics that will help you defeat this incredibly common obstacle. You will also learn how to relax, and shift your focus from worrying about

being evaluated based on your performance to instead knowing how much you are valued by your listeners.

Create Effective Introductions: This objective will teach you how to hook your audience right off the bat, and ensure they will stick around for the entire presentation. Avoid common mistakes that can cause your audience to lose interest fast.
Cost
$79 for Chamber members

$89 for non-members
All participants will receive meeting materials, snacks, and lunch. Registration is limited to 12 participants, so click here to secure your seat today.
About Lisa Ritchie
Founder and Owner, Lisa Ritchie, has instructed communication at the college level for the past decade; with her experience in the business sector, as well as the academic arena, she has helped hundreds of individuals learn how to reach their audiences through effective and poignant communication skills. Lisa is an expert in understanding and teaching how the different generations communicate with one another.
For More Information: