70th Annual Membership Meeting
Presented by Skyline/Skybest & Catered by Red Moon Catering
---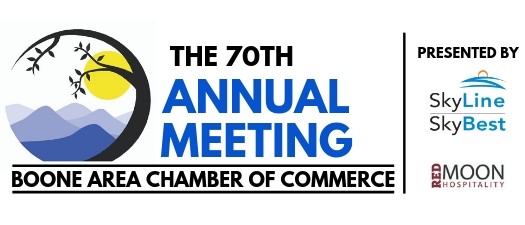 Boone Area Chamber of Commerce
70th Annual Membership Meeting

Join us at the Holmes Convocation Center, Thursday, August 1st, from 5-8 pm, for the 70th Boone Area Chamber of Commerce Annual Membership Meeting. The event is presented by Skyline/Skybest and Red Moon Catering.
We'll celebrate the successes achieved by our business community over the last year, while also focusing on how we grow forward in the future. The evening includes:
Welcome reception from 5-5:45pm on the main concourse of the Holmes Center, presented by Capital Bank.

A $2,500 credit with A Travel Story, and local agent Shirley Light, will be raffled off following dinner. A portion of the proceeds from the raffle will be donated to W.A.M.Y Community Action, as they work toward breaking the cycle of poverty in our community. You can purchase your raffle tickets online by clicking this link, or simply add them to your cart when purchasing your Annual Membership Meeting tickets.

Seven Community Award winners will be introduced to the audience and recognized with a special video presentation at the meeting. The event will also serve as the formal introduction of six new members to the Boone Area Chamber of Commerce Board of Directors, along with comments from incoming Board Chair David Still.
Keynote Speaker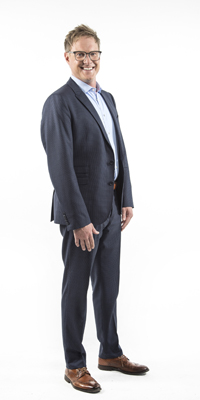 Bestselling Author Andrew Davis will deliver the event's keynote address. Before building and selling a thriving digital marketing agency, Davis produced for NBC's Today Show, worked for The Muppets in New York and wrote for Charles Kuralt. He's appeared in the New York Times, Forbes, the Wall Street Journal, and on NBC and the BBC. Davis has crafted documentary films and award-winning content for tiny start-ups and Fortune 500 brands.
Recognized as one of the industry's "Jaw-Dropping Marketing Speakers," Davis is a mainstay on global marketing influencer lists. Wherever he goes, Andrew Davis puts his infectious enthusiasm and magnetic speaking style to good use teaching business leaders how to grow their businesses, transform their cities, and leave their legacy.
Corporate Tables
Use the Annual Membership Meeting to reward staff for a successful year or to entertain clients and customers. Tables are $450 and include seating for 10, a mention from the podium, and listing on digital signage and printed programs.
Tickets
Tickets are $40 for Chamber members and $50 for non-members. To take advantage of Chamber member pricing, you will need to login to your account prior to purchase. If you have not created your profile, click here to get started.
Punch Brothers
Please know we are aware of the Punch Brothers show at 8pm on the night of the Annual Meeting. Our program is set to conclude prior to 8pm. Please check back to this page later this month for details on transportation options from the Holmes Center to the Schaefer Center for the Performing Arts. Should you need tickets to the show, please click here. 
For More Information: