3rd Annual High Country Economic Kickoff Breakfast
---
Thursday, January 24, 2019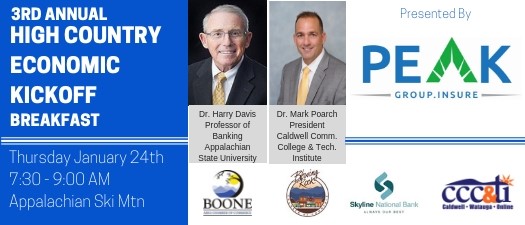 The 3rd Annual High Country Economic Kickoff Breakfast is scheduled for Thursday, January 24th from 7:30-9:00am, in the Snow Cloud Room at Appalachian Ski Mountain.
The event is co-hosted by the Boone Area Chamber of Commerce and the Blowing Rock Chamber of Commerce and is presnted by Peakgroup.insure, formerly the Nationwide Insurance Charles Eyler Agency.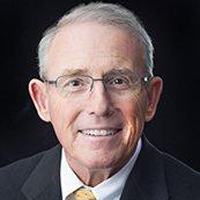 Longtime Appalachian State Walker College of Business faculty member, Dr. Harry Davis, will deliver his 2019 economic forecast. Dr. Davis serves as both Dean and instructor for the North Carolina School of Banking. He is an instructor for the Director's College sponsored by the North Carolina Commissioner of Banks and the FDIC. Dr. Davis is also an instructor for the North Carolina Insurance Executive Management School and the South Carolina School of Banking.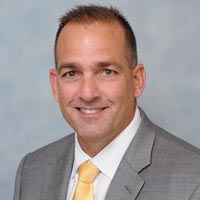 Dr. Mark Poarch, President of Caldwell Community College & Technical Institute, will provide remarks on Career Connections, a program aimed at providing a one-stop solution for bringing together job seekers and job providers. Dr. Poarch has served as President of CCC&TI since July of 2016. He earned his Doctor of Education and Education Specialist degrees at Appalachian State University and both a Master of Arts in Education and a Bachelor of Science in Business Administration at Western Carolina University.
The Boone Area Chamber of Commerce will also present its 2018 Watauga County Business-of-the-Year awards during the program.
Doors open at 7:15am and the event will end promptly at 9am. Free parking will be available in the Appalachian Ski Mountain member lot, which provides easy access to the Snow Cloud Room.
If you have questions, please contact the Boone Area Chamber of Commerce at 828-264-2225 or email david@boonechamber.com.
For More Information: