CCC&TI Small Business Center Seminar
---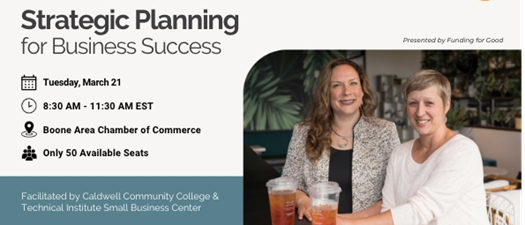 Join us on Tuesday, March 21st from 8:30-11:30 AM in our office for a seminar partnered with The Small Business Center at CCC&TI.
Strategic Planning the Beginning: Creating a Process that Produces Results
Did you know that businesses can DOUBLE their chances for success simply by creating a current and relevant strategic plan to guide growth? This workshop is perfect for business leaders seeking to begin a planning process that engages the entire team and produces a realistic action-focused plan.
Take-Aways
Learn why a strategic plan is vital for sustainable growth.
Gain tips for achieving "buy-in" from your board, staff, and stakeholders.
Confirm how your vision and mission statement drive the process.
Breakdown of the top 10 things every organization should know before crafting a strategic plan.
Identify metrics you need to guide a current and relevant strategic planning process.
Access a variety of free tools and templates to get your organization started in the strategic planning process.
Strategic Planning: What Could and Should be In the Final Written Document
Are you ready to draft a written strategic plan but wonder "How do we narrow down all these ideas into one document?" This workshop helps business leaders understand the three questions every well-crafted strategic plan should answer.
Take-Aways:
Learn the three questions every well-crafted strategic plan should answer

Walk away with a content checklist for a written strategic plan

Clarify content order and formatting tips

Gain tips on how to facilitate strategic planning conversations in ways that make capturing the content in writing easier

Access a variety of free tools and templates to simplify the strategic planning drafting process
For program related questions, please reach out to Carmela Tomlinson at 828.726.3065 or by emailing ctomlinson@cccti.edu
For More Information: