Business After Hours - Hound Ears Club
The November Installment of Business After Hours
---
Thursday, November 10, 2022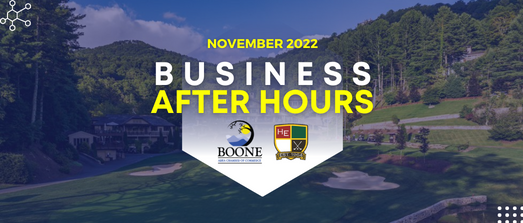 Hound Ears Club invites you to the Boone Area Chamber of Commerce November Business After Hours on Thursday, November 10, at 5 p.m., co-sponsored by Mountain Vista Window Washing.
Upon arrival, attendees will be shuttled to Hound Ears Club's recently constructed Fitness Center, which features state-of-the-art equipment and sweeping mountain views. After a tour of the Fitness Center, we welcome all attendees to join us in our Clubhouse for live music with Todd Wright, hors d'oeuvres, seasonal beverages, and networking.
When: Thursday, November 10, 5-7 p.m.
Where: Hound Ears Club, 328 Shulls Mill Road, Boone, NC 28607
If using a GPS, this address will take you to the Hound Ears Administration and Real Estate Building. Please proceed beyond this entrance to the Hound Ears Security Gate (located a quarter of a mile from the Administration/Real Estate Building).
Parking: Complimentary valet parking will be offered at the Hound Ears Clubhouse. No tipping, please.
Attire: Please kindly refrain from wearing heeled shoes, as heels may damage the flooring in the Hound Ears Fitness Center.
Business After Hours is a Free Member Event! Guests are welcome.
Please register your full party.
Thursday, November 10, 2022