Member News: Mast Store & Merrell Footwear to Provide Food for Kids October 22 through November 4th
Date posted
October 18, 2018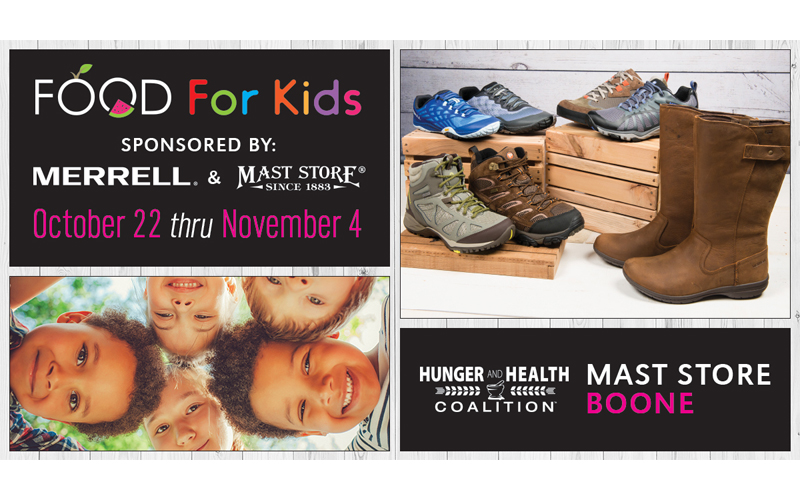 News Release Prepared by Mast General Store
"Have you eaten?" That's the secret code for love and care in many families, but it's a question of real consequence for more people than many realize. That's why Mast Store, Merrell Footwear, and the Hunger and Health Coalition are partnering to turn the answer to that question into a resounding "yes" in our communities, especially for one of the most vulnerable populations, our children.
The Hunger and Health Coalition offers a food assistance program to Watauga residents alongside pharmacy services which are available to residents of Ashe and Avery counties as well. Their food box program provides a wide range of food products from fresh to frozen to pantry staples. They also provide services to pets through their partnership with the Watauga County Humane Society. The coalition's contribution to helping eliminate hunger is vital to the community, especially considering that, according to Feeding America, 1 in 6 children in the U.S. are food insecure. They worry about something a child should never fear-- when they'll have their next meal. Food for Kids' partnership with the Hunger and Health Coalition. ensures that our communities have the resources to prevent child hunger.
"Partnering with Merrell has allowed us to provide thousands of weekend meals," said Lisa Cooper, president of Mast General Store. "We are proud to partner with vendors that are committed to changing lives in our communities. Merrell believes that meeting a child's needs is vital to helping them grow and learn without the worries of food insecurity. They know how important it is for a kid to just be a kid."
The campaign will run from October 22nd through November 4th, and for each pair of Merrell Footwear purchased at Mast Store during this period, Merrell will donate funds to fill a backpack with food for the weekend. The Hunger and Health Coalition will then fill backpacks with kid-friendly foods to last a weekend, when kids are without the services found in schools and aftercare programs—a crucial time of hunger for children with no access and no means of feeding themselves. Items such as microwaveable meals, bars, and juices are given discretely to the children on Friday, and the backpacks are returned for refilling on Monday.
Join us and help the children in your community to thrive and to overcome an epidemic that can be simply and easily stopped if we all work together. Backpacks cost less than three mornings' coffees and are far more valuable to the child who takes that portable pantry home. Donations and volunteers are welcome. Together we are stronger, and together we can make sure no child goes hungry.
For more information on how you can help provide Food for Kids, contact the Hunger and Health Coalition at 828-262-1628 or visit their website at HungerandHealthCoalition.com.
Are you a Chamber member with an announcement you'd like to share with the community? Send your press release to david@boonechamber.com.