Job Opportunity: Lees-McRae College Virtual Job & Internship Fair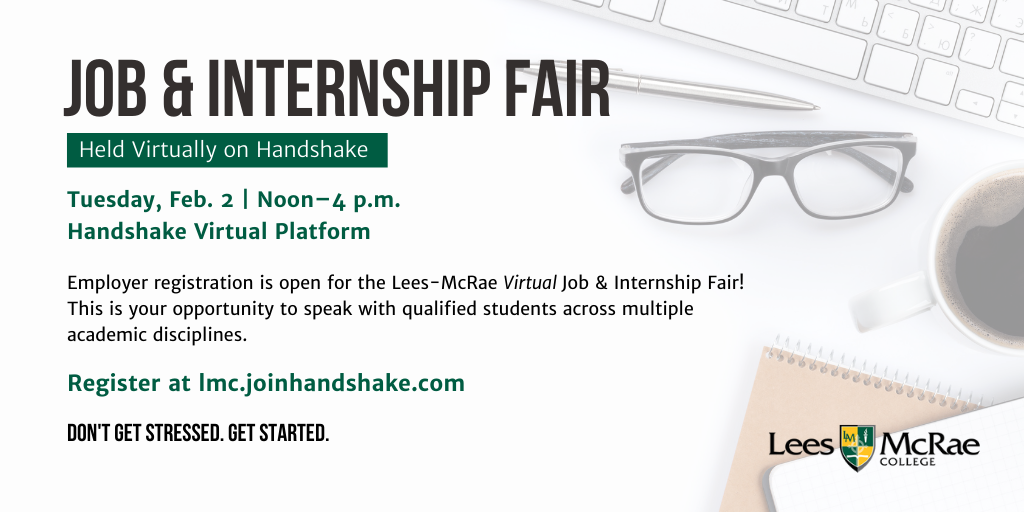 Hello, 
Lees-McRae College would like to invite you to participate as an employer in our Virtual Job & Internship Fair, using the Handshake career fair platform. The event is on Tuesday, February 2nd from 12pm-4pm EST and is fully free to attend! 
Registration and participation will require a Handshake account. If you do not have a Handshake account and would like assistance in setting one up, please see here. 
This virtual event will be a chance for you to connect with Lees-McRae College undergraduate students from a wide range of academic backgrounds. This is a fantastic opportunity to meet with a diverse group of individuals seeking both internships and full-time positions. You can find a detailed list of our degree programs here. 
What is a virtual fair? How does it work?
Employers will have a virtual booth and you can assign representatives to chat with students in either a 1:1 or group setting. 1:1 meetings are 10 minutes long and students will sign up for those sessions in advance. Group sessions can accommodate a larger number, if you are looking to share the same information to a wider audience. The Handshake virtual fairs platform is a new feature, so if you are not familiar with it, you can check out this guide or watch this video tutorial here. 
Grace Champion
Lees-McRae College | Director of Career & Life Planning
828-898-8828 | championg@lmc.edu | She/Her/Hers
Shelton Learning Commons | 191 Main St. Banner Elk, NC 28604
Students can book an appointment with me on Handshake.