Back to Events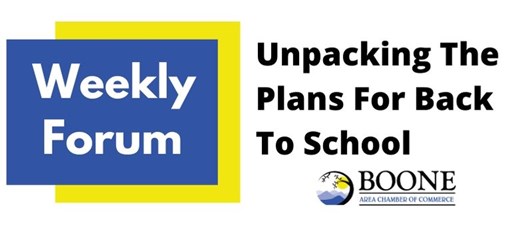 Unpacking The Plans For Back To School
Tuesday, July 21, 2020
11:30 AM - 12:45 PM (EDT)
Zoom credentials will be sent upon registration.
Event Details
On Tuesday, July 14th, North Carolina Governor Roy Cooper announced the adoption of plans for both in-person and remote learning to occur as public schools begin the 2020-21 school year.
Some immediate questions regarding the impact "Plan B" will have on Watauga County Schools have already been addressed (view this interview here). Still, many families are seeking further clarity on how the plans to operate schools will impact health, safety, child care, and work schedules as we move closer to fall.
An expert panel of administrators and educators from Watauga County Schools are joined by community leaders to answer questions on school cleaning protocols and expectations, coordinating child care, broadband capabilities, and return to work schedules.
Panelists include:
Jody Barnes, Engineering Manager, Skyline Skybest
Brian Bettis, Principal of the Year (Bethel), Watauga County Schools
Dr. Scott Elliott - Superintendent, Watauga County Schools
Julie Odell, Senior Vice President and Chief Administrative Officer and Ethics Officer, Blue Ridge Energy
Jeff Trexler, Facilities Director, Watauga County Schools
*Submit your questions ahead of time to info@boonechamber.com
For More Information:
David Jackson
President/CEO
Boone Area Chamber of Commerce
(828)264-2225