Lunch Bytes: Caring For Our Community During Crisis
Featuring OASIS, INC.
---
Zoom credentials will be emailed to you upon registration.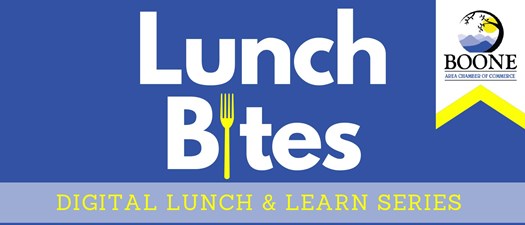 The Boone Area Chamber of Commerce Presents:
Lunch Bytes
A Weekly Digital Lunch & Learn Series
Caring for Our Community During COVID-19
Featuring OASIS, INC.
COVID-19 has pushed our local nonprofits into overdrive, working to address a multitude of insecurities within the community.  Crisis times can intensify domestic violence and sexual assault cases in the community and workforce, increasing the importance of local resources. 
OASIS, INC., (Opposing Abuse with Service, Information, and Shelter) will present on their current services, the impact due to COVID-19, and how they have worked to continue to meet the needs of our victims and survivors.
Featuring:
Michelle Grit, Director of OASIS, INC. 
Sara Crouch, OASIS, INC., Outreach Coordinator
Grab lunch, connect to your device of choice, and join us to learn about how OASIS, INC. is caring for our community during crisis.
For More Information: