Lunch Bytes - Accounting Best Practices In the COVID-19 World
---
Zoom credentials will be emailed to you upon registration.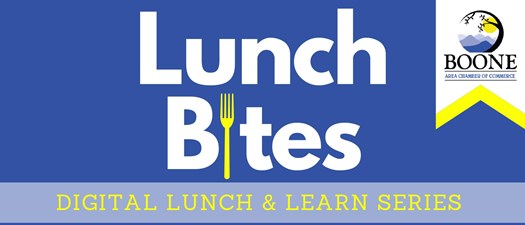 The Boone Area Chamber of Commerce Presents:
Lunch Bytes
A Weekly Digital Lunch & Learn Series
Accounting Best Practices in the COVID-19 World
Have you received your PPP loan payment and wonder what's the best way to track what the money is being used for? 
Has the COVID-19 crisis forced you to adjust your cash flow and budget projections on the fly?
How will Congressional efforts to add more money to the CARES Act loan programs impact your application?
This week's Zoom panelists include:
Brady Combs, CPA, Combs, Tennant, & Carpenter PC
Ron Elmore, Regional Director, SBTDC
Grab lunch, and your connected device of choice, and hear advice from these local experts about ways you can respond to the current financial crisis by combining timely information with sound accounting practices.
Each panelist will provide a short presentation followed by an opportunity for Q&A, with answers coming from neighbors in your community that understand the impact of COVID-19 financial solutions on your bottom line.
For More Information: