Friday Forum: Caring For The Mental Health Of Our Community
Local experts discuss mental health challenges and resources during crisis.
---
Friday, June 5, 2020
10:00 AM - 11:15 AM (EDT)
Zoom credentials will be sent upon registration.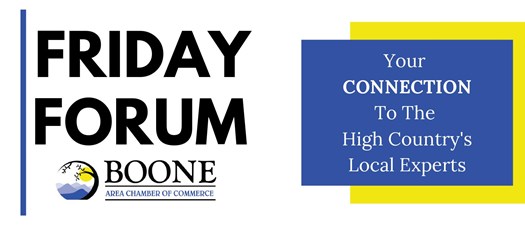 Friday Forum:
Caring for the Mental Health of Our Community
Heightened anxiety and overwhelming stress are a natural byproduct of the crisis times our community is experiencing and all of us are affected in some way - whether on a personal level or within the workplace. Join us as some of our local mental health experts acknowledge the stressors, provide opportunities for support while maintaining boundaries, and identify local mental health resources, all in an effort to maintain positive behavioral health trends in our community.
Featuring:
Alysia Hoover-Thompson, Director of Behavioral Health Integration, High Country Community Health
Catherine King, Executive Director, Community Care Clinic
Denise Lovin, Psychologist, Psy.D.
Lisa Shelton, Director, Appalachian Regional Healthcare System Employee Assistance Program (ARHS EAP)
Jenni Womble, LCSW, ARHS EAP
*Submit your questions for the panelist ahead of time to info@boonechamber.com
For More Information: