Friday Forum: AppHealthCare
---
Friday, May 15, 2020
10:00 AM - 11:15 AM (EDT)
Zoom meeting information will be sent following registration.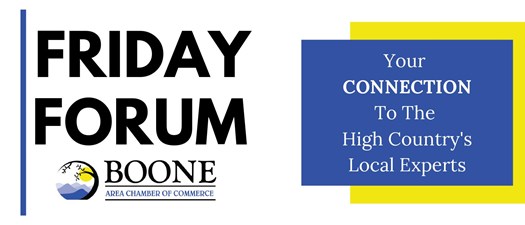 Friday Forum with AppHealthCare
Our local public health experts address concerns and answer questions regarding the High Country's next steps in fighting COVID19. Learn how our individual and community efforts can foster positive outcomes as we work through Phase 1 of NC's 3-Phase Plan to Reopen.
Featuring:
Jennifer Greene, Health Director, AppHealthCare
Kelly Welsh, Director of Clinical Services, AppHealthCare
Andy Blethen, Environmental Health Supervisor, AppHealthCare
Monica McKinney, Environmental Health Program Specialist, AppHealthCare
*Submit your questions for the panelist ahead of time by emailing info@boonechamber.com
For More Information: