Friday Forum: Opening Safe and Profitable
---
10:00 AM - 11:15 AM (EDT)
Zoom credentials will be emailed upon registration.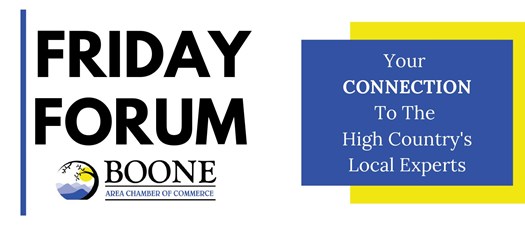 Opening Safe and Profitable
Friday Forum 6/12 from 10-11:15am
Ron Elmore (SBTDC) leads a conversation on Opening Safe and Profitable.
Joined by Brady Combs (Combs, Tennant & Carpenter, P.C) and Lynn Mason (Owner, Lost Province Brewing Company), this panel will clarify changes to the PPP forgiveness regulations while providing steps on how to reexamine your business model to create a lean and efficient strategy for reopening. 
Testimony from one of our local businesses will support financial tactics that help safely resume operations while adding focus to rebuilding savings, should there be any future disruption of business.
AppHealthCare representatives Melissa Bracey (Director of Communications and Compliance) and Monica McKinney (Environmental Health Program Specialist) will be available to answer any questions regarding implementation of health and safety measures and enforcement techniques. 
*Submit you questions for the panelist ahead of time to info@boonechamber.com
For More Information: