Community Day of Remembrance
---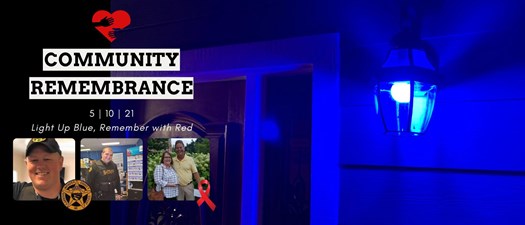 Watauga County and the High Country continue to grieve in the wake of the events of April 28th, several local businesses, organizations, and citizens have rallied to create a Community Day of Remembrance, set for Monday, May 10th.
Community members can signup to receive information about a special kit that includes a blue LED lightbulb to honor Watauga County Sheriff's Deputies Chris Ward and Logan Fox, and the hundreds of law enforcement officials and first responders from across the state that aided the community during the tragedy. The kit will also include a red ribbon to honor George and Michelle Ligon.
Once pick-up details are finalized, those that wish to receive a kit will be able to visit one of several pick-up locations throughout Watauga County late next week. A small number of light stands will be available, on a first-come-first-serve basis, for businesses that do not have a traditional light socket outside of their location. Then, on Monday, May 10th, we unite in solidarity to honor the lives lost with a day of reflection with family, friends, and neighbors.  Community members are called to wear the red ribbon, or red clothing throughout the day in honor of George and Michelle Ligon, then light up their homes & storefronts blue that evening in a tribute to Deputies Ward and Fox.  Those who feel lead can share experiences through social media using the hashtag #WataugaStrong.   
The kits will be available to those that sign up on a first-come-first-serve basis and will be available free of charge, thanks to the generosity of several local businesses, including Consolidated Electrical Distributors of Boone, Creekside Electronics, local civic organizations, and numerous community members.
If you, your business, or organization would like to assist in this effort, please contact Katie Greene by email at katie@boonechamber.com.
This effort is being coordinated alongside the Watauga County Sheriff's Department, Town of Boone Police Department, municipalities throughout Watauga County, and the Mediation and Restorative Justice Center.
If you have additional questions, please contact the Boone Area Chamber of Commerce at 828-264-2225 or email david@boonechamber.com.
---
Mientras el Condado de Watauga y High Country continúan de luto a raíz de los eventos del 28 de abril, varias empresas, organizaciones y ciudadanos locales se han unido para crear una Noche Comunitaria de Recordación, programada para el lunes 10 de mayo.
Los miembros de la comunidad pueden registrarse en este enlace para recibir información sobre un paquete especial que incluye un bombillo LED azul en honor a los diputados del alguacil del Condado de Watauga, Chris Ward y Logan Fox, y a los cientos de agentes del orden público y socorristas de todo el estado que ayudaron a la comunidad durante esta tragedia. El paquete también incluirá una cinta roja en honor a George y Michelle Ligon.
Una vez que se finalicen los detalles de donde pueden recoger estos paquetes, aquellos que deseen recibir un paquete podrán visitar uno de los varios lugares de recogida en todo el Condado de Watauga a fines de la próxima semana. Habrá una pequeña cantidad de puestos de iluminación disponibles, por orden de llegada, para las empresas que no tienen un enchufe de luz tradicional fuera de su locación.
Los paquetes estarán disponibles para aquellos que se registren por orden de llegada y estarán disponibles sin costo alguno, gracias a la generosidad de varias empresas locales, incluidos "Consolidated Electrical Distributors de Boone", "Creekside Electronics", organizaciones cívicas locales. y numerosos miembros de la comunidad.
Si usted, su empresa u organización desean ayudar en este esfuerzo, comuníquese con Katie Greene por correo electrónico a katie@boonechamber.com.
Este esfuerzo se está coordinando junto con el Departamento del Sheriff del Condado de Watauga, el Departamento de Policía de la ciudad de Boone, los municipios de todo el Condado de Watauga y el Centro de Mediación y Justicia Restaurativa.
Si tiene preguntas adicionales, comuníquese con la Cámara de Comercio del Área de Boone al 828-264-2225 o envíe un correo electrónico a david@boonechamber.com.
For More Information: