Thursday, September 5, 2019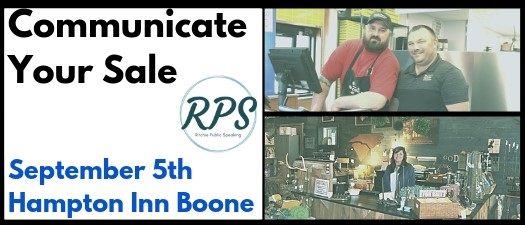 Communicate Your Sale
With the general workplace being comprised of many different generations that have unique interpersonal skills, effective communication is an essential skillset for all employees including front-line sales staff.
Did you know that communication is the number one complaint that employees have when surveyed about their organization?
In today's corporate world there are many opportunities to efficiently reach every generation through practical communication. With over 20 years of invaluable knowledge, Ritchie Public Speaking, has partnered with the Boone Chamber of Commerce to deliver a comprehensive workshop that helps executives tackle some of the fundamental aspects of effective sales communication.
Objectives
During this half-day workshop, participants will focus on these key topics:
Learn Nonverbal Communication: We will teach you how to develop awareness of your own body language while enhancing it, as well as interpret the nonverbal communication that is coming from your listeners. This component will ensure that you learn how to make

meaningful connections with everyone in your audience, which will leave a lasting impression.

Improve Vocal Delivery: You will learn how to properly articulate your voice in a way that is engaging enough to make heads turn in a positive way! Tone, pitch, and energy are just some of the factors to consider when learning how to project your voice in a confident, strong manner. We will show you how your voice may be working against you, and what you can do to improve the way you are heard.

Creating Energy: Boosting your energy is an important factor in maintaining the attention of your audience. We will show you how to find this hidden energy within yourself and use it in order to poignantly get your message across without appearing inauthentic.

Word Choice and Professionalism: The words you choose to speak can be the difference between a lasting impression and having someone deny your message entirely. In this component, you will learn how to choose your words wisely so that you can have influence over your listeners, and build a positive relationship with each of them. What's more, the way in which you present your carefully chosen words can also heavily impact your listeners; this is

something important to consider especially when presenting in a corporate environment. We will show you how to maintain the highest level of professionalism when presenting to your audience.
Cost
$79 for Chamber members

$89 for non-members
All participants will receive meeting materials, snacks, and lunch. Registration is limited to 12 participants, so click here to secure your seat today.
About Lisa Ritchie
Founder and Owner, Lisa Ritchie, has instructed communication at the college level for the past decade; with her experience in the business sector, as well as the academic arena, she has helped hundreds of individuals learn how to reach their audiences through effective and poignant communication skills. Lisa is an expert in understanding and teaching how the different generations communicate with one another.
For More Information: