Business After Hours - Western Youth Network & Mellow Mushroom
Western Youth Network & Mellow Mushroom co-host Business After Hours
---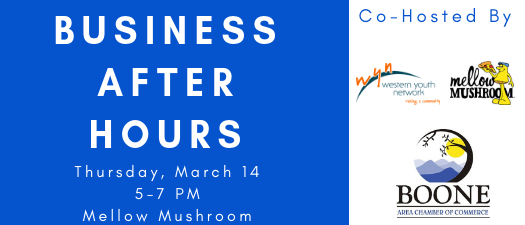 Come join us at our March installment of Business After Hours, hosted by Mellow Mushroom and Western Youth Network!
Delicious food will be catered courteous to Mellow Mushroom, and alcoholic drinks will be available for purchase. Western Youth Network will be sponsoring a raffle with the chance to win your own Mellow Mushroom gift cards, and treats from local businesses!
Western Youth Network (WYN) has been serving youth in the High Country for more than 34 years. Through mentoring, after school, summer camp, substance abuse prevention, and high school programming, WYN is working to create a community in which every child, regardless of circumstance, thrives.
"WYN provides children in our community with a place they can feel safe and supported. It is so important that our children know they are cared for." -Faye Cooper, WYN Advisory Board.