Business After Hours - Deer Valley Athletic Club
---
Thursday, January 9, 2020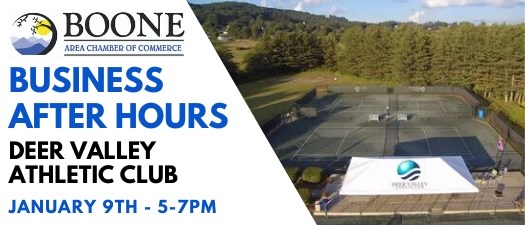 Join us for our January installment of BAH on Thursday, January 9th at Deer Valley Racquet Club from 5:00 p.m. to 7:00 p.m!
Come out for Booneshine beer and assorted wines. There will be a carving station with Prime Rib and Ham, as well as, appetizers and snacks provided by The High Country Greek.

Deer Valley also has an indoor golf simulator where they will have an optional contest going on that people can participate in and win prizes.

There is parking at the lower entrance and upper entrance. People can also park in the grass if need be. The event will be upstairs on the mezzanine above the indoor tennis courts and we will have staff directing people where to go from either entrance.

Deer Valley is located at 507 Bamboo Rd.