Building Conversations: Networking with Local Construction Professionals
A quarterly gathering of construction professionals in the High Country.
---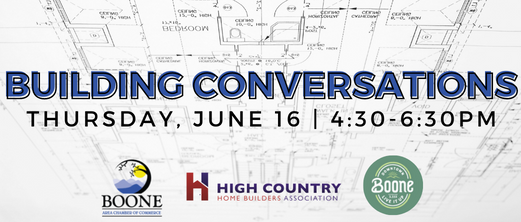 Building Conversations
Presented by: Boone Area Chamber of Commerce in partnership with the Downtown Boone Development Association and High Country Home Builders Association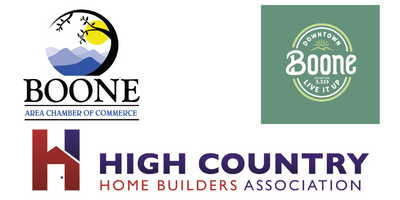 The Boone Area Chamber of Commerce presents Building Conversations, our quarterly networking gathering for local construction professionals and Town of Boone staff. Join us Thursday, June 16th, from 4:30-6:30PM at Booneshine Brewing Company.
Light appetizers and a complementary Booneshine beverage will be provided as you network with colleagues in the local construction industry. Members of the Town of Boone Planning & Inspections, Public Works, and Fire departments will be on hand as well, providing opportunity for conversation outside of your normal business interactions.
This gathering is designed to be informal, so feel free to come and go as your schedule permits. We will have short comments from 5:45-6:00PM, which will include:
Quick welcome from David Jackson (Boone Area Chamber)
Comments and updates from Jane Shook, Town of Boone Planning & Inspections
Please RSVP using the link above. Space is limited, though we will do our very best to accommodate as many attendees as possible.
For More Information: