AppalCART Battery Electric Bus Unveiling
---
Wednesday, September 28, 2022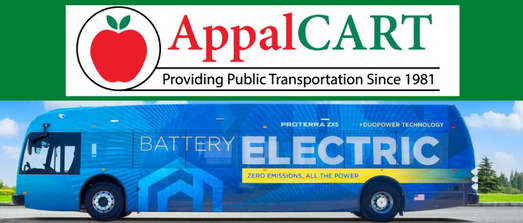 The High Country's first electric transit bus is ready for its big reveal!
Join us on 
Wednesday, September 28 at 6:00 pm as AppalCART 
welcomes the Proterra ZX5 Battery Electric Bus to Boone in a special unveiling ceremony.
After short comments from select local and State representatives, the public will get the first look at this innovative addition to our community's transit landscape.
The event will take place at 283 Martin Luther King Jr St, Boone, NC (Parking lot across from the Boone National Guard Armory next to the softball fields).
This exciting addition to AppalCART's fleet was made possible thanks to a collaborative effort between AppalCART, Appalachian State University, the Town of Boone, Watauga County, and the Boone Area Chamber of Commerce.
The public is welcome to attend and light refreshments will be provided.
Wednesday, September 28, 2022