OASIS, Inc. Community Case Manager
OASIS, Inc., a non-profit agency serving victims of domestic and sexual violence in Watauga and Avery Counties, is hiring a full-time Community Case Manager.
Responsibilities:
Case Manager
Provide Case Management services to all hotel and scattered site emergency shelter residents, which includes but is not limited to, providing referrals to other community agencies, coordinating transportation, assistance with retrieving identification documents, financial assistance, employment, and life skills education, etc.
Provide overnight and daily supervision of shelter residents in the Emergency Shelter during assigned working hours.
Maintain detailed, organized, and accurate client files which contain all necessary documentation. Certify enrolled clients for continued participation in ESG-CV Emergency Shelter and other OASIS hotel programs and exit clients from the program as necessary.
Assist the finance manager with the monthly requisition by and providing the relevant documentation and maintaining the program workbook.
Sexual Violence and Human Traffic
Take lead role in coordinating human trafficking and sexual assault services and serve as liaison between OASIS and hospital personnel.
Receive specialized training regarding Human Trafficking and Sexual Assault service provision, including but not limited to Victims' Compensation, Rape Victims Assistance, and Anonymous Reporting.
Provide follow up with survivors as appropriate including maintaining medical response client surveys.
Provide ongoing communication with Emergency Department staff, keeping an up-to-date roster of SANEs, nurses, and physicians and providing up to date information about OASIS services and OASIS Advocate contact information. Ensure WMC and Cannon have no-response folders through communication with Emergency Department staff.
Coordinate as needed with staff to ensure medical advocacy response folders and bags are fully stocked in all service locations; work with Finance Manager to guarantee funds in this line item are used appropriately.
Provide crisis intervention and support for clients that may include responding to crisis calls, meeting with clients at the office and/or other community agencies and providing medical and/or judicial systems advocacy.
Qualifications:
Relevant four-year degree and previous experience in human services field preferred.
Excellent communication skills, organizational skills, and basic computer skills required.
All applicants are subject to the Agency's receipt of a satisfactory criminal history report and every 2 years after initial pre-hire check.
Must meet the necessary Motor Vehicle Record Check requirements set forth by Philadelphia Insurance Companies, have a valid Driver's License, and up-to-date vehicle insurance to operate the OASIS vehicle when necessary.
Must have reliable transportation and driver's license.
Those with Spanish language skills are especially encouraged to apply.
Salary $36,000 plus benefits.
Please include resume, cover letter and references.
OASIS is an Equal Opportunity Employer. No phone calls please.
Job Type: Full-time
Pay: From $36,000.00 per year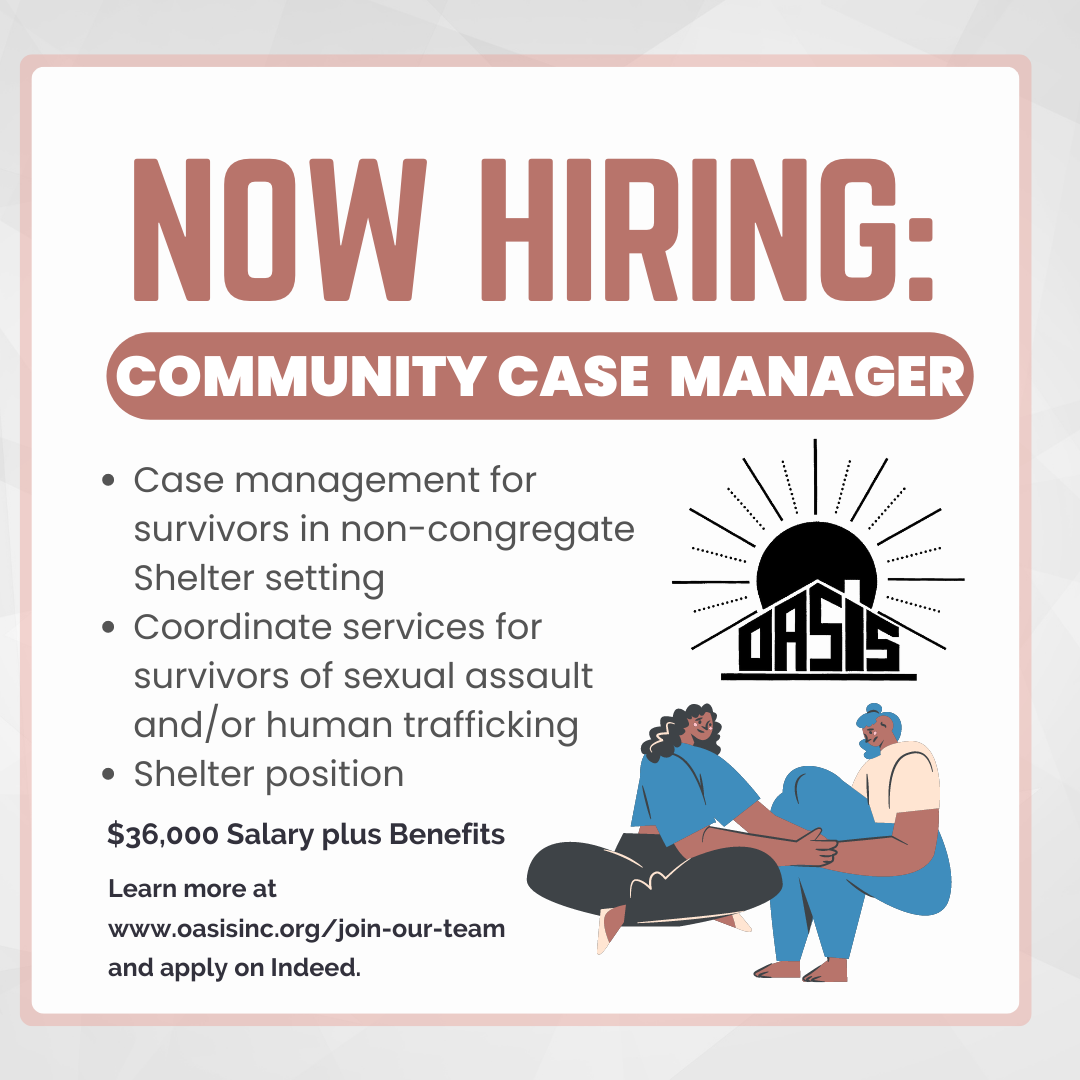 Benefits:
Employee assistance program
Flexible schedule
Health insurance
Life insurance
Paid time off
Parental leave
Retirement plan
Vision insurance
Schedule:
12 hour shift
8 hour shift
Day shift
Holidays
Monday to Friday
Night shift
On call
Weekend availability
Work Location: One location